Packers and Movers In Pune
Get promising shifting service with superior packing material for fast and safe delivery from India No#1 packers and movers.
FREE Visit
Get free visit at your doorstep to verify your goods & consultation.
Affordable Price
Get highly affordable Price and Discount on every shifting service.
Fast Delivery
Get a fast & safe delivery of your household goods at your doorstep.
24x7 Support
Get 24/7 Customer support over email, phone and Whatsapp chat.
🛡

Safe & Compliance

Cloudpackers relocate your households with complete safety and assurance. Get extra assurance with insurance, high-quality packing materials and skilled human resources.
💰

Cost Saving

The right type of packing material respective to goods from a skilled and trained workforce, transport chain and modern technology will save money. Right, consult for moving to make it easier.
💡

End to End Service Solution

Starting from scratch to settle at your destination we offer complete services where you can relocate your households, furniture, electronics, and vehicles to your living plants and pets.
🌐

Fast & Worldwide Network

Over a period of time, we enhance ourselves and our connections to the global market. And now we have a strong and fast worldwide packers and movers network.
💸

Insurance Coverage

By looking at the obstacles and risks of transportation to your belongings, we offer insurance coverage to your households to prevent you from any loss.
📦

Storage & Warehouse Facility

Get up to 30 days of absolutely free storage and warehouse facility from us. You can store your belonging with us for upto 30 days free while taking our packing and moving service.
🏗

Advanced Tool & Modern Shifting Method

For complete safety and extra protection, we use advanced tools and modern technology for packing and shifting households to your desired destination.
👷

Skilled Staff & Premium Packing Material

Over a half-decade Cloudpackers solving packing and moving issues with their well-trained staff and world-class packing materials. We use multilayer packing for the safest relocation.
Our Success Story

70000+
Homes Moved

21+
Cities Covered
200+
Verified professional
98%
satisfied Customers
Cloud Packers and Movers Pune is backed by a passionate Research & Development team. We keep an account of every new challenge our team faces in the Knowledge Database. The reason, if a similar problem recurs, our team will have the required knowledge to provide the solution in less time. The R & D team helps streamline processes as per the recent technology trends.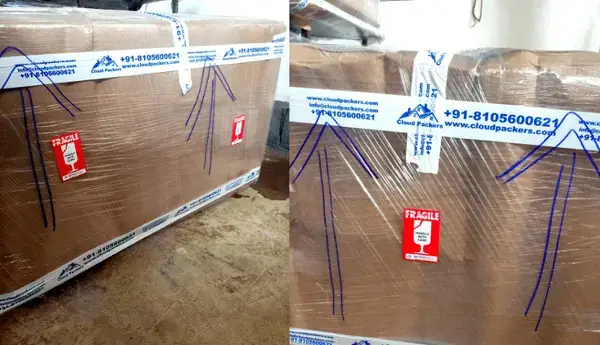 We have a head office in Bangalore and operational offices in Pune, Mumbai and Hyderabad. We started in Feb 2017; we have served 31250+ clients, 100+ businesses and with 18+ branches all over India, we are still growing. Safe delivery with Customer satisfaction is our No#1 priority. We collect customer feedback regularly and modify the services if needed.
Are you looking to move your residence or office to a different place from Pune? Then we, Cloud Packers and movers in Pune is here to help you! Till now, we have helped a lot of people to move to their new or desired destination. We provide local, long-distance and international moving services as well. We have 7+ years of experience in this field which made us professionals!
Our transparency, security, quality packaging and reasonable price are the main reasons for Cloudpackers achieving a name in the relocation industry. We provide tailor-made packing and moving services as per your requirements. Being one of the best packers and movers companies in Pune, we have professionals in every department who can handle your goods carefully.
At Cloud Packers, you can hand over everything to us and relax till your work is done! We understand the shifting requirements differ for houses, offices and hotels. So, we follow the regular method of designing a foolproof strategy of shifting that has worked wonders till now.
Why Choose Cloud Packers and Movers in Pune?
Pune city is called as Queen of the Deccan. Pune is small compared to other big cities like Bangalore, Delhi or Kolkata, but the population is around 40 lakh. Pune is the 2nd largest IT hub in India and the top automobile manufacturing hub in India. In a big city such as Pune, it is too risky and a waste of time to search for the right packers and movers if you are new to the city. If you want to shift from Pune to other cities, it is vital to choose the right packers and movers company to transport your goods.
Packers and movers service providers can help you relax as their professional team takes care of all the relocation requirements. But there are many factors to consider while choosing the right packers and movers; otherwise, you may lose lots of money, and your goods may get damaged
Suppose you want to ship your goods and search for any packers and movers in Pune. Kindly spend a little time reading the points below. We describe some key points that are very important while transporting your goods. Also, we tell how Cloudpackers can help you if you choose our esteemed services.
Relocation Price
While thinking about relocating goods, you will be a little bit worried about the prices. We understand that you may want to save some cash. Please note, Cloudpackers has designed the best relocation service packages in India for different budget needs. But if you want us to inform the price for shifting at the first instant, please note, we will not be able to provide it as it depends on many factors.
So we always recommend you choose 3 to 4 different packers and movers to compare their prices and their benefits with that money to analyse, which is perfect for you.
There are some packer and movers companies which may charge a small amount in the initial stages. But when it comes to delivery, the final bill will have lots of delivery charges (hidden fees).
We, Cloudpackers don't charge any hidden cost to maintain our transparency, and we disclose all the charges before shifting your goods. Also, we have been working in Pune for four years. We give our services at the best rates in the industry with high-quality service.
If you live in Pune and need any packers and movers service, you can give a missed call to us. We will provide you with accurate information about your relocation needs.
Best Packaging Service
When it comes to relocation of either home, corporate goods and industrial equipment, we understand the main concern will be the safety and transportation of goods. As already mentioned, we have a verified team of professionals who will be involved in packaging your goods. Usually, for fragile home items or electronic items (TV, Washing Machine), we give three layers of protection. Please note, we use only high-quality materials when it comes to carbon sheets, waterproof laminations and bubble wrap to protect your goods from scratches or damage.
Professional Packers and Movers Will Help You
many prefer to relocate by themselves. There are numerous DIY articles on how to pack your home items, corporate goods and more. But, what is the guarantee that they will work? If they do not work and your goods become damaged, then you do not have any person to claim responsibility.
We will give you some points so that you can decide on the details:
You think of going by the DIY method regarding relocation.
You will have to pack the goods by yourself.
You have to buy the packing materials on your own. Bubble wraps, corrugated sheets and cardboard boxes. Also, you need adhesive tapes, thick ropes and more.
You need to pack the goods properly. Then you will have to arrange the vehicle on your own. The loading and unloading have to be done by your family members. Or, you will have to arrange the porters on your own.
Imagine the hard tasks you have to do. Instead, just make a call to our Cloudpackers Pune team and they will take the entire burden of relocation on their shoulders.
Assure by Insurance
As already mentioned, we follow the International Standards of Relocation. The main reason, we have an INSURANCE TRANSIT for every project. So, taking care of your goods is our responsibility and the Cloudpackers team makes the best of it.
Check Those Company Profiles
After selecting some packers and movers, you have to check those companies' profiles like their years of operation, check their company registration, do they have a license to carry out relocation tasks and check their TIN or TAN number if available. Since there are lots of companies which outsource the relocation tasks such as packing, loading to third party service providers, you may not only end-up losing the money but also face damage to goods
Also, check those companies' social media profiles and read customer reviews to better understand the company.
Take a Office Visit
After choosing some of the companies, you need to visit their office. Visiting offices of packers and movers in Pune can give you a better understanding of the company. You can ask your queries to them, and you will get proper knowledge about their relocation facilities and packages.
Cloudpackers will also give every customer a free visit by the relocation supervisor so that he understands the needs. Our professionals will come to your doorstep and clear your doubts about the company, cost and procedures. The supervisor on his visit will be able to gauge the number of items that have to be relocated. He will then decide on the number of professionals, relocation items (bubble wraps, cardboard boxes) and trucks for the relocation.Try to record your calls while talking with companies professionals at the first instant about hidden fees. Also, you can speak to them when you go to their office and clarify these issues.
Cost Affecting Factors of Packers and Movers in Pune
Suppose you are trying to relocate your goods in Pune to other cities or any local area. Then there are lots of things you need to know that may affect your budget. Here are some points to remember that can help you to save your money
The higher your quantity of items, the more charges you will have to pay for the relocation services.
Labour costs always occupy a major part of relocation services. They will take care of the packing, unpacking, loading and unloading service. If you live on the ground floor, the charges will be normal. If you live on the 3rd or 6th floor, then our team will have to bring your home items down and then load them into the vehicle. The charges will be more.
The distance between your location and the new location will affect your budget directly.
Some other reasons that can affect your budget are the current petrol prices and vehicles for transportation.
If you have lots of sensitive items like glass, flower pots, etc. they are also a factor in increasing your budget because these products need many packaging materials. So they will add to the packaging cost.
How Cloudpackers Will Help You?
We help people in several sectors like packing and moving, loading and unloading, household shifting, warehouse and storage, office shifting, vehicle transportation, and pet relocation. Please note, we offer insurance options for these services: Here you can see some important points about how we help people when they choose us as their packers and movers.
We have been active in Pune for five years, and we have the best packers and movers team in Pune. They can handle heavy tasks like packing, unpacking, loading and unloading and even the transportation process. So, you can just sit back and relax.
We have a free audit process while making your budget for relocation. Our professionals will come to your doorstep, check your goods, and also measure your relocation distance to make your budget.
Cloudpackers is one of the best packers and movers in Pune and all over India. We give three layers of protection to your goods that will make your goods more secure.
Insurance cover is provided for every relocation project. Also, we opt for only doorstep pick-up and door delivery.
Our Relocation Service Areas in Pune
We provide our services all over Pune, and we are active in some major cities and some local towns. Lastly, if you are looking for Packers and Movers in Pune, you can simply give us a call or send us a message. Our customer care executive will respond in the next eight hours to give an apt response.
You can visit our website – www.cloudpackers.com and you can either fill out our enquiry form, can call or WhatsApp us directly or can send mail to info@cloudpackers.com. Once you contact us using any medium our dedicated manager will contact you, visit and provide you with a quotation. After getting our quotation you can finalise the moving date and you can book cloud shifting service.
If you have a final relocation service with cloud packers If you want to cancel it for any reason you can send an email or call your allocated manager to cancel the service.
If you want to cancel our service you can cancel at any point in time with no cancellation charges. But if you want to cancel the service on the scheduled date or after inciting the packing process then cancellation charges may apply.
Once you contact cloud packers our representative will visit your doorstep and provide you with a final quotation if you want to book that time you can book that also. If you need some time after that you can confirm your booking via email, call or Whatsapp. Cloud packers prefer email confirmation in advance.
Cloud Packers and Movers In Pune
Get promising shifting service with superior packing material for fast and safe delivery from India No#1 packers and movers.
Get Free Quote
Write a review now