Cloud Movers and Packers Pune to Jaipur
FREE Visit
Get free visit at your doorstep to verify your goods & consultation.
Affordable Price
Get highly affordable Price and Discount on every shifting service.
Fast Delivery
Get a fast & safe delivery of your household goods at your doorstep.
24x7 Support
Get 24/7 Customer support over email, phone and Whatsapp chat.
🛡

Safe & Compliance

Cloudpackers relocate your households with complete safety and assurance. Get extra assurance with insurance, high-quality packing materials and skilled human resources.
💰

Cost Saving

The right type of packing material respective to goods from a skilled and trained workforce, transport chain and modern technology will save money. Right, consult for moving to make it easier.
💡

End to End Service Solution

Starting from scratch to settle at your destination we offer complete services where you can relocate your households, furniture, electronics, and vehicles to your living plants and pets.
🌐

Fast & Worldwide Network

Over a period of time, we enhance ourselves and our connections to the global market. And now we have a strong and fast worldwide packers and movers network.
💸

Insurance Coverage

By looking at the obstacles and risks of transportation to your belongings, we offer insurance coverage to your households to prevent you from any loss.
📦

Storage & Warehouse Facility

Get up to 30 days of absolutely free storage and warehouse facility from us. You can store your belonging with us for upto 30 days free while taking our packing and moving service.
🏗

Advanced Tool & Modern Shifting Method

For complete safety and extra protection, we use advanced tools and modern technology for packing and shifting households to your desired destination.
👷

Skilled Staff & Premium Packing Material

Over a half-decade Cloudpackers solving packing and moving issues with their well-trained staff and world-class packing materials. We use multilayer packing for the safest relocation.
We have some time or other in a lifetime seen our neighbors shifting or our family members re-locating. As a kid, we used to enjoy seeing the entire process from morning to night but as we grow up we realised how the concerned person who is relocating is on his or her toes without sparing any time. We can literally see the stress level so high on the face. People at that time is full of anxiety and tension.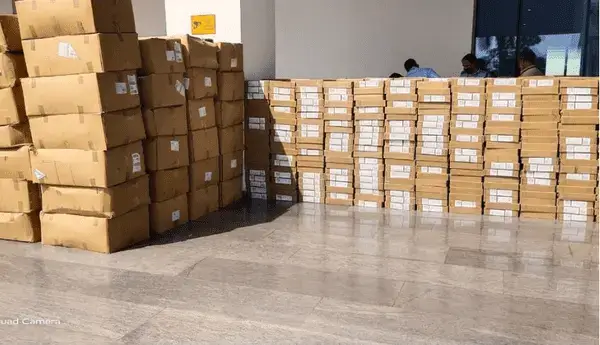 Are you the one who is going to be at that position very soon? Are you relocating from Pune to Jaipur? There could be various reasons for you to relocate. Are you currently a lot stressed about the entire shifting process, because you have less time to shift? Do not worry!
Cloud Packers and Movers Pune to Jaipur is a pioneer in the shifting process. We have helped thousands of people to shift from one city to the other or even one country to the other. We will take care of the entire process from A to Z. You don't need to worry about it. Once you have hired us for the shifting process, all you need to do is sit back and relax.
Reasons why Cloud Packers becomes the perfect fit
1. We value time: Cloud Packing and moving service from Pune to Jaipur have a very straight motto. 'Time is Money'. We strongly believe in not wasting any sort of time ever. We understand the pressure the customers go through during the entire shifting process and how little time the customers have. We always follow deadlines. Rather there are times when we finish the entire process in less than the stipulated time frame. Getting is late is something which we don't believe in, nor have we been late ever. Also being on time does not mean that we in any ways compromise on the quality. We keep quality and time management as the two important parameters and try to balance them properly.
2. Latest Equipment's: The packing and moving business have come a long way now. It is no more of just 'manual' where agents pick up those heavy things load it and unload it. During this process, there were multiple times when things used to break. It's impossible for agents to also pick up such heavy things. Especially there were times when people had their floors on the 4th or 6th floor and the lift broke down. Agents used to manually do the loading and unloading.
However, time is changing now. Cloud Packers is very advanced with its equipment. In the current world, where technology is just booming day by day, we have taken full advantage of such a situation and tried to use all the equipment which are very advanced. We have such equipment which can lift as heavy things as possible in no time without any damage. It makes the lives of the agents also easier and at the same time it turns out to be very effective and efficient. These advanced equipment help us in saving a lot of time which increases our productivity and quality as well. We always believe in leading the trend and remain pro-active in the business.
3. Insurance Policy:when Cloud Packers provides services, it provides a holistic 360-degree service. Mishaps are a part of life and can happen with anybody anytime. A shifting process is a place where the maximum amount of damage does happen. That means in the process of loading and unloading, there is a lot of delicate stuff that tends to break or get spoil. For the very reason, we have started giving an insurance policy in our package to the customers. The insurance policy involves a cover against all the products especially against those which are delicate such as electronic products or glass products. Cloud Movers and Packers Pune to Jaipur will take full ownership of everything we do in this process and compensate for the loss if anything happens to your products.
4. Unusual packaging: To pack the normal basic household things is basic and anybody can do it. The main task arises when the big things at home such as furniture, beds or vehicles need to be packed properly. That is what the most tedious task out of everything is. Cloud Packers is known for providing quality packaging to the customers. We do a minimum of 2 layered packagings for all the basic products such as tables, chairs, etc. for the delicate and big products we do a minimum of 3 layers of packaging. The third layer is the unusual one and it is the tightest one of the lot. It needs to be done thoroughly to avoid any sort of damage. We have some excellent equipment which we use during packaging the products. It helps in making the entire packaging process easy and quick. Also helps in adding to the quality quotient.
Packers and Movers Pune to Jaipur Charges
Cloud Packers deliver excellent service with a very nominal charge compared to others.
By analyzing and understanding your requirement, we consult you on the best to save your money. We suggest the goods which can be sold to save of moving.
Recommend you small staff that can move with your handbag like documents, important gadget, jewelry, a small electric gadget to reduce your moving budget and safety of your valuable goods.
Donate your old and not using goods like cloth and book to society needy and save money.
We can also help to set your luggage with our professionals for full-proof packing.
| Goods Size | Packing Charges | Transportation Cost | Total Cost (Approx) |
| --- | --- | --- | --- |
| 1 BHK | 7,550 - 11,000 | 14,200 -17,400 | 21,750 - 28,400 |
| 2 BHK | 12,250 - 15,540 | 17,000 - 20,300 | 29,250 - 35,840 |
| 3/4 BHK | 15,150 - 17,790 | 21,900 - 28,300 | 37,050 - 45,990 |
| Office or Large Shifting | 23,600 - 26,800 | 27,750 - 34,900 | 51,350 - 61,700 |
(Note - This pricing is a rough estimate, the actual price may differ from the given price depending on item type and the number of the item you want to transport.)
Packers and Movers Pune to Jaipur
Get promising shifting service with superior packing material for fast and safe delivery from India No#1 packers and movers.
Get Free Quote
Write a review now