Cloud Movers and Packers Pune to Ahmedabad
FREE Visit
Get free visit at your doorstep to verify your goods & consultation.
Affordable Price
Get highly affordable Price and Discount on every shifting service.
Fast Delivery
Get a fast & safe delivery of your household goods at your doorstep.
24x7 Support
Get 24/7 Customer support over email, phone and Whatsapp chat.
🛡

Safe & Compliance

Cloudpackers relocate your households with complete safety and assurance. Get extra assurance with insurance, high-quality packing materials and skilled human resources.
💰

Cost Saving

The right type of packing material respective to goods from a skilled and trained workforce, transport chain and modern technology will save money. Right, consult for moving to make it easier.
💡

End to End Service Solution

Starting from scratch to settle at your destination we offer complete services where you can relocate your households, furniture, electronics, and vehicles to your living plants and pets.
🌐

Fast & Worldwide Network

Over a period of time, we enhance ourselves and our connections to the global market. And now we have a strong and fast worldwide packers and movers network.
💸

Insurance Coverage

By looking at the obstacles and risks of transportation to your belongings, we offer insurance coverage to your households to prevent you from any loss.
📦

Storage & Warehouse Facility

Get up to 30 days of absolutely free storage and warehouse facility from us. You can store your belonging with us for upto 30 days free while taking our packing and moving service.
🏗

Advanced Tool & Modern Shifting Method

For complete safety and extra protection, we use advanced tools and modern technology for packing and shifting households to your desired destination.
👷

Skilled Staff & Premium Packing Material

Over a half-decade Cloudpackers solving packing and moving issues with their well-trained staff and world-class packing materials. We use multilayer packing for the safest relocation.
Settled in Pune and planning to move Ahmedabad? Your move can be of any kind like home relocation, office shifting with your vehicles. Surely, you will have households goods, belongings, and other possession to move from Pune to Ahmedabad. The job of shifting from one place to another, whether it is home shifting, office relocation or vehicle transportation, is not a fun thing to do. It involves hassles, chaotic tasks and unhappy moments. You should hire good packers and movers in your shifting from Pune to Ahmedabad to make you shifting experience hassle-free and safe. You can make your shifting process comfortable and tension free by hiring professional Packers and Movers. They should be expert and reliable with reasonable price.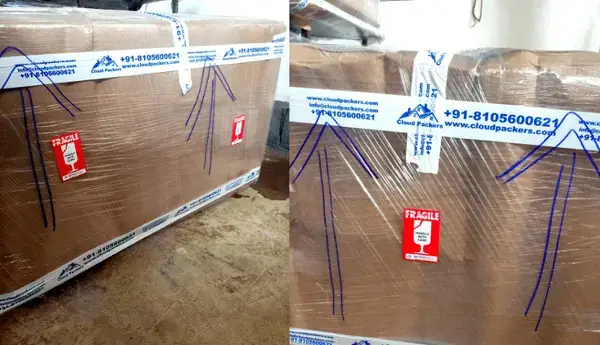 Welcome to Cloud Packers and movers Pune to Ahmedabad services. Here at Cloud Packers, we offer you reliable moving services with your preferred budget. We can help you efficiently in your moving from your current place in Pune to your destinated place in Ahmedabad whether its home shifting, office relocation, commercial shifting or car/bike transportation. We have a well-organized structure and devoted teams for every task. Our assets, strategy and labor force are the keys to perfections for every task.
Benefits and Reasons to Hire Us
Fast response to our clients:
You can visit us free by making a phone call and get suggestions of our professionals to make your move easy and tension free within your estimated budget.
Warehouse/Storage Facility
Besides households, you may have some goods that require storage or warehouse facility. Don't worry, at Cloud Packers, we have these facilities. Also, we offer free storage for 30 days.
50% advance and 50% after delivery
We are very clear about our payment method. You don't have to pay the charges in a single hand, rather we offer 50% pay in advance at the time of loading and the rest 50% after reaching the destination. It builds trusts between our clients and us.
Reasonable charges
Price is the most considerable factor while hiring any Packers and Movers company. Cloud Packers offer affordable price rates on its services. We don't overcharge. What we charge, we completely make it worth.
Fast and Safe Move
You are in your new home in Ahmedabad, but your households or not reached yet. Surely, it is not desirable and you won't like to live in your new home without your belongings and goods. The same goes for office relocation. We deliver your household, belongings, and goods at the scheduled time. Also, What if you find out half of your goods are lost or stolen, and some are damaged? It is horrible to even think about it. Cloud Packers know your emotions and concerns. So, we make your shifting safe and secure.
Quality and Honest
Quality and honesty are our prime values. We are honest with our customers and don't misguide, cheat or hide anything. Also, our services are quality assured.
Customer Satisfaction
We are concerned about our customers, what are their needs and what they want. We provide our best to our clients as customer satisfaction is our duty. We analyze our customer reviews and improve our services with every coming task.
Devoted teams
Every single task of shifting requires skilled and trained labor. We have dedicated teams for packing/unpacking, loading/unloading. Also trained and experienced drivers for safe and secure transportation. Every team performs its job with perfection.
Licensed and Insured
Our company is insured and licensed. We don't want our customers and us to get in trouble. Being licensed and insured benefits both our customers and us.
Dedicated vehicles
To ensure delivery on time, we have dedicated containers and trucks. Our vehicles are always ready to move.
There are many tips and guides to pick the best Packers and Movers in Pune to relocate your home, office, car, and bike, but the core factors remain the same. If you are lucky enough to choose the good and right Packers and Movers, you don't have to worry about anything. You just sit back and watch everything happening.
In fact, there are numerous Movers and Packers from Pune to Ahmedabad in the market. They make big promises in the start, but they are unable to fulfill them. Also, they may fool you with their hidden charges and taxes. They may ask you for more money at the time of delivery which is worst. In contrast to these unprofessional packers and movers, Cloud Packers is free of these headaches and hassles. We offer our quality services at nominal prices. You just tell us what you want to move, where you want to move, when you want to move and you are done. We own all the responsibilities and headaches to make your move from Pune to Ahmedabad easy and comfortable.
Packers and Movers Pune to Ahmedabad Charges
Cloud Packers deliver excellent service with a very nominal charge compared to others.
By analyzing and understanding your requirement, we consult you on the best to save your money. We suggest the goods which can be sold to save of moving.
Recommend you small staff that can move with your handbag like documents, important gadget, jewelry, a small electric gadget to reduce your moving budget and safety of your valuable goods.
Donate your old and not using goods like cloth and book to society needy and save money.
We can also help to set your luggage with our professionals for full-proof packing.
| Goods Size | Packing Charges | Transportation Cost | Total Cost (Approx) |
| --- | --- | --- | --- |
| 1 BHK | 7,550 - 11,000 | 14,200 -17,400 | 21,750 - 28,400 |
| 2 BHK | 12,250 - 15,540 | 17,000 - 20,300 | 29,250 - 35,840 |
| 3/4 BHK | 15,150 - 17,790 | 21,900 - 28,300 | 37,050 - 45,990 |
| Office or Large Shifting | 23,600 - 26,800 | 27,750 - 34,900 | 51,350 - 61,700 |
(Note - This pricing is a rough estimate, the actual price may differ from the given price depending on item type and the number of the item you want to transport.)
Packers and Movers Pune to Ahmedabad
Get promising shifting service with superior packing material for fast and safe delivery from India No#1 packers and movers.
Get Free Quote
Write a review now