Cloud Movers and Packers Pune to Bangalore
FREE Visit
Get free visit at your doorstep to verify your goods & consultation.
Affordable Price
Get highly affordable Price and Discount on every shifting service.
Fast Delivery
Get a fast & safe delivery of your household goods at your doorstep.
24x7 Support
Get 24/7 Customer support over email, phone and Whatsapp chat.
🛡

Safe & Compliance

Cloudpackers relocate your households with complete safety and assurance. Get extra assurance with insurance, high-quality packing materials and skilled human resources.
💰

Cost Saving

The right type of packing material respective to goods from a skilled and trained workforce, transport chain and modern technology will save money. Right, consult for moving to make it easier.
💡

End to End Service Solution

Starting from scratch to settle at your destination we offer complete services where you can relocate your households, furniture, electronics, and vehicles to your living plants and pets.
🌐

Fast & Worldwide Network

Over a period of time, we enhance ourselves and our connections to the global market. And now we have a strong and fast worldwide packers and movers network.
💸

Insurance Coverage

By looking at the obstacles and risks of transportation to your belongings, we offer insurance coverage to your households to prevent you from any loss.
📦

Storage & Warehouse Facility

Get up to 30 days of absolutely free storage and warehouse facility from us. You can store your belonging with us for upto 30 days free while taking our packing and moving service.
🏗

Advanced Tool & Modern Shifting Method

For complete safety and extra protection, we use advanced tools and modern technology for packing and shifting households to your desired destination.
👷

Skilled Staff & Premium Packing Material

Over a half-decade Cloudpackers solving packing and moving issues with their well-trained staff and world-class packing materials. We use multilayer packing for the safest relocation.
Based in Pune, but bought a new house in Bangalore? Or switching your job and moving to Bangalore? Have your entire family staying in Bangalore? There can be several reasons for you to travel from Pune to Bengaluru. However, with Cloud Packers and movers Pune to Bangalore, you need not worry. Get rid of all your tensions, as we will help you have a very smooth experience of moving.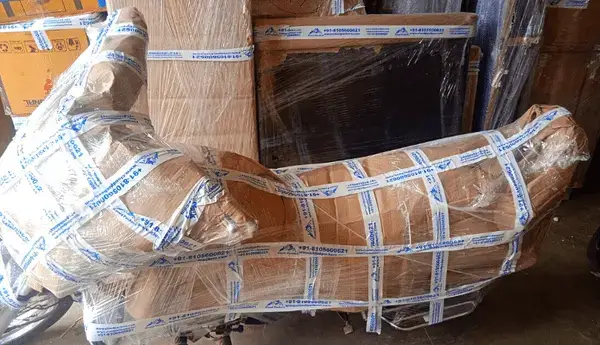 The distance from Pune to Bangalore is roughly 850 km. Hence, we can call the two cities very near to us. For a long journey like this, you will need a reliable source to help you with all the packing and moving and that is where Cloud Packers comes into the picture.
Cloud Packers is a renowned packers and movers company based in Bangalore. It has been a pioneer in providing excellent service to its clients not just in the city but throughout the globe. In a short period, it has gained a tremendous amount of positive reviews from the clients. With its extraordinary service, Cloud Packers does make your entire journey of moving and packing a very smooth one.
The reason why we should be your next Pick and what makes us different:
Highly skilled staff: One of the major USPs of Cloud packers is its highly experienced staff. We have technicians who are much trained and experienced and have been in this domain for years. They have been trained to provide a very quality amount of service which is very clean and tidy.
Extensive services: We don't just restrict our services in Bangalore. We have our services all over. We don't restrict ourselves to just the domestic market, our services are spread to the International Market as well.
Personalized Services: We don't have a standard structure to provide services. We personally build the structure with our clients. We provide an extensive amount of insights about the company to our clients and in return understand their needs and wants. After doing a mix of two, we prepare the service structure which matches the needs and comfort of both.
Competitive prices: Pricing is something we are very certain about. We understand it's the hard earned money of our customers. Hence, we never overcharge. Our pricing is one of the most competitive one in the market. We don't believe in manipulating the customers and charging more. We always charge a very nominal price from the customers.
24*7 Available: For our customers, our team is always available. We understand customers do freak out and have a lot of queries to ask. Keeping all this in mind, we have built our services in a manner where we can help our clients throughout the day and night.
Free Consultation: The first meeting with our customers is the most important for us. We try and build a very strong rapport with them. We understand all their needs and wants and only then proceed. Moreover, we don't charge anything as a consultation fee to our customers.
A three-fold service: Cloud movers and Packers Pune to Bangalore have a very holistic way of providing services to our customers which involves an extensive amount of communication. The first fold involves talking to the customers, knowing all their sides of the needs. The second step involves telling our side of the procedures. The third and final step is to create a personalized mix and get going for proving the services. Also, we can vouch for the quality of our services.
After-Sale services: We don't keep our customers hanging after the service. Our job does not end after the service rather it starts from there. We provide excellent after-Sale services to our clients. That too the first after-sale-service we generally provide complimentarily. Hence, we are there with you till the end.
No lost or broken stuff: Our team comprises of highly skilled people. They are experienced and have undergone proper training. All the important and delicate stuff such as electronics, glass materials, etc. are given extra care. If any damage also happens, we take full ownership of everything. We have special packaging for all the delicate products.
Time Driven: We value time more than anything else. We understand the urgency in this business and keeping that in mind, we provide very efficient services on time. Hence, you would never have to keep pinging us.
Ways to Contact Us?
Cloud Shifting service Pune to Bangalore is everywhere on the internet and just a click away. If you are planning to move and want to explore our services then you can:
You can mail us at info@cloudpackers.com
Or call us at +91-7796000621.
One of our team members will get in touch with you.
Packers and Movers Pune to Bangalore Charges
Cloud Packers deliver excellent service with a very nominal charge compared to others.
By analyzing and understanding your requirement, we consult you on the best to save your money. We suggest the goods which can be sold to save of moving.
Recommend you small staff that can move with your handbag like documents, important gadget, jewelry, a small electric gadget to reduce your moving budget and safety of your valuable goods.
Donate your old and not using goods like cloth and book to society needy and save money.
We can also help to set your luggage with our professionals for full-proof packing.
| Goods Size | Packing Charges | Transportation Cost | Total Cost (Approx) |
| --- | --- | --- | --- |
| 1 BHK | 7,550 - 11,000 | 14,200 -17,400 | 21,750 - 28,400 |
| 2 BHK | 12,250 - 15,540 | 17,000 - 20,300 | 29,250 - 35,840 |
| 3/4 BHK | 15,150 - 17,790 | 21,900 - 28,300 | 37,050 - 45,990 |
| Office or Large Shifting | 23,600 - 26,800 | 27,750 - 34,900 | 51,350 - 61,700 |
(Note - This pricing is a rough estimate, the actual price may differ from the given price depending on item type and the number of the item you want to transport.)
Packers and Movers Pune to Bangalore
Get promising shifting service with superior packing material for fast and safe delivery from India No#1 packers and movers.
Get Free Quote
Write a review now