Cloud Movers and Packers Ranchi to Mumbai
FREE Visit
Get free visit at your doorstep to verify your goods & consultation.
Affordable Price
Get highly affordable Price and Discount on every shifting service.
Fast Delivery
Get a fast & safe delivery of your household goods at your doorstep.
24x7 Support
Get 24/7 Customer support over email, phone and Whatsapp chat.
🛡

Safe & Compliance

Cloudpackers relocate your households with complete safety and assurance. Get extra assurance with insurance, high-quality packing materials and skilled human resources.
💰

Cost Saving

The right type of packing material respective to goods from a skilled and trained workforce, transport chain and modern technology will save money. Right, consult for moving to make it easier.
💡

End to End Service Solution

Starting from scratch to settle at your destination we offer complete services where you can relocate your households, furniture, electronics, and vehicles to your living plants and pets.
🌐

Fast & Worldwide Network

Over a period of time, we enhance ourselves and our connections to the global market. And now we have a strong and fast worldwide packers and movers network.
💸

Insurance Coverage

By looking at the obstacles and risks of transportation to your belongings, we offer insurance coverage to your households to prevent you from any loss.
📦

Storage & Warehouse Facility

Get up to 30 days of absolutely free storage and warehouse facility from us. You can store your belonging with us for upto 30 days free while taking our packing and moving service.
🏗

Advanced Tool & Modern Shifting Method

For complete safety and extra protection, we use advanced tools and modern technology for packing and shifting households to your desired destination.
👷

Skilled Staff & Premium Packing Material

Over a half-decade Cloudpackers solving packing and moving issues with their well-trained staff and world-class packing materials. We use multilayer packing for the safest relocation.
Got a new job in Mumbai or got transferred? Or you are shifting from Ranchi to Mumbai for academic reasons. No matter what reason, We will help you in every move. Now you don't have to take stress, and we are here for you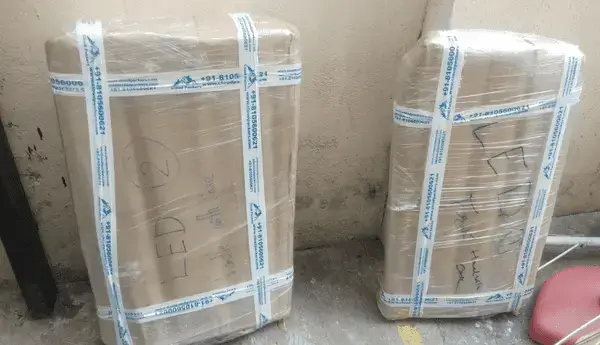 Mumbai, the city of dreams and the financial capital of India is also considered as India's one of the most happening cities that never sleeps. Every year millions of people reach Mumbai to fulfil their life-goals. The very fast paced nature of this city, ensures fast relocation. Be it domestic or commercial relocation, Cloud Packers and movers have always brought a smile on the faces of people moving to Mumbai. Our relocation process consists of detailed planning, robust processes and trained manpower, which guarantees the quickest and hassle-free relocation.
We at Cloud Packers and Movers help our customers from first to the last. We work on the motto of Complete Client Satisfaction; that is why we are loved by all those customers who have trusted us.
Below are some compelling reasons for hiring us when you are shifting from Ranchi to Mumbai.
1. You don't have to worry about anything; we have got your back. From packing to loading and then unloading to unpacking, we will be there with you.
2. Now, you don't have to hire so many people to help you relocate. Just hire us, and we will manage both packing and transportation.
3. You don't have to take stress on after relocation pain and health problems. Because we don't want you to do anything, we want you to hire us and relax.
4. Your life will become easy and efficient. Because we know that Packing and moving are one of the most challenging jobs to do, and it is even tougher when you do it on your own.
5. Your goods are packed in such a way that even a single pin is not missed. We understand your emotional attachment with your belongings, and we pack and load things in such a way that not a single thing gets spoiled.
6. You don't have to pay any consultation fees, At Cloud Packer and Movers, we don't charge any money for consultation, and we also keep transparency in the billing. The complete quote will be given to you before finalizing everything.
7. We also put innovative deals for packing and moving that are affordable and budget-friendly. We put only standard charges and also obey all the guidelines of the government.
8. You don't need to worry about any mishaps; we are ISO certified packing and moving company with more than two hundred skilled and experienced employees.
9. Your every need will be taken care of; whether you have pets or vehicles, we will move them too, for you.
10. Safety is one of our primary concerns. We know that "the small table of your grandfather" is worth more than millions for you. We can understand your emotional attachments with your goods, items, and commodities; that's why we ensure the safety of your belongings.
We work in three phases. First, we plan, then we discuss, and the last one is execution. When you reach us in the first step, we take the complete details from you, and we plan the complete moving process. After that, in the second step, we discuss the complete plan and other details with you. We also conduct a pre-move survey to estimate the quantity of the goods and estimate the moving cost.
In the last step, when everything is finalized, then we start executing our plan. We will also decide the date of moving in the survey, and also we will suggest any improvements in the plan.
Why Choose Cloud Packers and Movers for Moving From Ranchi to Mumbai?
We understand that each home move is unique and requires very much attention. Before starting with the relocation process, our pre-move survey executive will visit your house to acknowledge everything in detail. We have been in this business for more than ten years with more than two hundred skilled employees.
Safety is our priority, so when we relocate our customers, we take all the necessary steps to keep our customers and their goods, items, and commodities safe.
We have:
Free Consultation Services
Skilled and Experienced Labour
Premium packing material
24x7x365 Customer Support
Extensive Services
Better Transportation Facilities
Serve for any amount of Workloads
We are honored when our customers get satisfied. Our Services include:
Budget-friendly packing and moving services.
State of the Art Moving Vehicles
Disassembling and Assembling heavy furniture and electrical appliances.
Packers and Movers Ranchi to Mumbai Charges
Cloud Packers deliver excellent service with a very nominal charge compared to others.
By analyzing and understanding your requirement, we consult you on the best to save your money. We suggest the goods which can be sold to save of moving.
Recommend you small staff that can move with your handbag like documents, important gadget, jewelry, a small electric gadget to reduce your moving budget and safety of your valuable goods.
Donate your old and not using goods like cloth and book to society needy and save money.
We can also help to set your luggage with our professionals for full-proof packing.
| Goods Size | Packing Charges | Transportation Cost | Total Cost (Approx) |
| --- | --- | --- | --- |
| 1 BHK | 7,550 - 11,000 | 14,200 -17,400 | 21,750 - 28,400 |
| 2 BHK | 12,250 - 15,540 | 17,000 - 20,300 | 29,250 - 35,840 |
| 3/4 BHK | 15,150 - 17,790 | 21,900 - 28,300 | 37,050 - 45,990 |
| Office or Large Shifting | 23,600 - 26,800 | 27,750 - 34,900 | 51,350 - 61,700 |
(Note - This pricing is a rough estimate, the actual price may differ from the given price depending on item type and the number of the item you want to transport.)
Packers and Movers Ranchi to Mumbai
Get promising shifting service with superior packing material for fast and safe delivery from India No#1 packers and movers.
Get Free Quote
Write a review now