Cloud Packers and Movers In Ramgarh
Get promising shifting service with superior packing material for fast and safe delivery from India No#1 packers and movers.
Get Free Quote
Write a review now
Packers and Movers In Ramgarh
Get promising shifting service with superior packing material for fast and safe delivery from India No#1 packers and movers.
FREE Visit
Get free visit at your doorstep to verify your goods & consultation.
Affordable Price
Get highly affordable Price and Discount on every shifting service.
Fast Delivery
Get a fast & safe delivery of your household goods at your doorstep.
24x7 Support
Get 24/7 Customer support over email, phone and Whatsapp chat.
🛡

Safe & Compliance

Cloudpackers relocate your households with complete safety and assurance. Get extra assurance with insurance, high-quality packing materials and skilled human resources.
💰

Cost Saving

The right type of packing material respective to goods from a skilled and trained workforce, transport chain and modern technology will save money. Right, consult for moving to make it easier.
💡

End to End Service Solution

Starting from scratch to settle at your destination we offer complete services where you can relocate your households, furniture, electronics, and vehicles to your living plants and pets.
🌐

Fast & Worldwide Network

Over a period of time, we enhance ourselves and our connections to the global market. And now we have a strong and fast worldwide packers and movers network.
💸

Insurance Coverage

By looking at the obstacles and risks of transportation to your belongings, we offer insurance coverage to your households to prevent you from any loss.
📦

Storage & Warehouse Facility

Get up to 30 days of absolutely free storage and warehouse facility from us. You can store your belonging with us for upto 30 days free while taking our packing and moving service.
🏗

Advanced Tool & Modern Shifting Method

For complete safety and extra protection, we use advanced tools and modern technology for packing and shifting households to your desired destination.
👷

Skilled Staff & Premium Packing Material

Over a half-decade Cloudpackers solving packing and moving issues with their well-trained staff and world-class packing materials. We use multilayer packing for the safest relocation.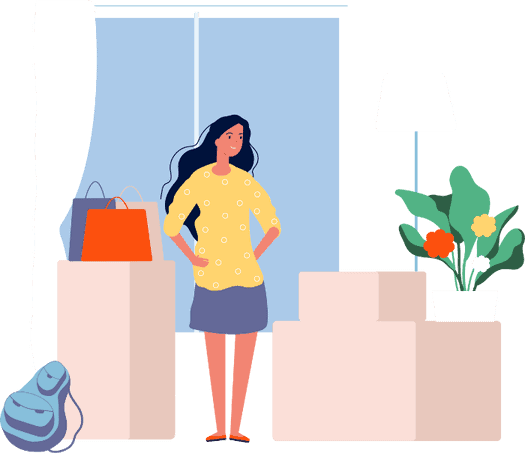 Relocating from one place to another can be a tedious task. There is a lot of excitement and curiosity one has before moving. But shifting home or an office to a new city is not an easy job. In that case, hiring the best Packers and Movers in Ramgarh will be the best solution for you.
Do you have any questions related to relocation? For example, how is the entire relocation process going to happen? This is the very first question that pops in one's mind.
It is quite evident that relocating to a new place is a task in itself. Nobody likes to pack and unpack each item they own in their house. There can be a lot of reasons people tend to move within the city or to different states. Most people move for work purposes when they get better career opportunities or for other reasons.
While the relocation process can be a whole new experience for oneself, there are ample things that can go wrong. You can make sure you start it on a correct note by appointing the best packers and movers. You would not want to experience something that would want you to regret your decision to choose the correct brand.
Following certain checkpoints and making a few notes will help find the right company and excellent customer experience. Please stay away from those fishy websites as they can be fake. Choose the right one to get the best transition result without any product damage. Visit the official website of CloudPackers, one of the best packers and movers in Ramgarh, or call them directly to receive your free quote today.
Cloud packers charge you a very decent amount with end-to-end solutions. The relocation cost depends on numerous considerations, but only two major factors influence the high, 1- no of items and 2- Total Distance. Here is a rough estimate of pricing to shift a house. 1BHK – 11500 – 15650 (Under 1000 Km) 2 BHK - 17359 – 24590 (Under 1000 Km)
We at cloud packers specialize and train to help you with any relocation needs. We can help you with interstate movement, local and domestic, along with international shipping too. Our all-over-India network can allow you to book smoothly anywhere in any part of India.
Cloud packers is the one-stop solution for all your shifting needs. If you want to book only transport service, you can, or if you can, book our 360 relocation package and get real peace of mind.
Cloud packers feature advanced and polished supply chain management, which gives you the tracking code and URL for tracking the movement of your goods on your figure tips.
Cloud packers give to end to end solution at your doorstep, so all the instigated service with relocation, such as loading, unloading, unpacking and reassembling, is offered proudly by us.
Are you in the process of moving your home from Mumbai to Ahmedabad? Then, we can understand your relocation worries. Some tips to make the process more manageable include selecting the best packers and movers and making a move only in specific months. You can make a move in November. Not many will love to relocate at this time if their children are studying in college or school. So, you can get a low price. Many opt to move only on the weekends. You can make a move from Tuesday to Thursday. You can get the best prices for the move. If you get stuck on the national highways on the weekend, it will take more time to reach the new destination.
If you have children, make a move when they have summer holidays. This will give you ample time to admit them to a new school. The children will also get time to adjust to their new home and make friends with the neighbors. The same concept even applies to college going students. When moving your household items based on weather, spring/fall are the best seasons. Please only make a move during the winter. Always remember these points before deciding on your shifting partner's moving date.
Professional Packers and movers in Giridih like CloudPackers charges less but offers quality services. You can experience a damage-free relocation, and the best part is there will be no hidden charges. You will get to know everything upfront. The charges entirely depend on the distance and the number of belongings.
Cloud packers use a safe route and move slowly to avoid goods damage, but our proactive service nature and refining supply chain management save time and make the process faster. Here are the times we may need to relocate your house: 1 to 99 Km – Same-day Delivery 100 to 499 Km – 2 to 4 days of time 500 to 1499 Km – 3 to 6 Days of Time 1500 to 3000 Km – 7 to 9 days of time