Cloud Packers and Movers In Krishnanagar
Get promising shifting service with superior packing material for fast and safe delivery from India No#1 packers and movers.
Get Free Quote
Write a review now
Packers and Movers In Krishnanagar
Get promising shifting service with superior packing material for fast and safe delivery from India No#1 packers and movers.
FREE Visit
Get free visit at your doorstep to verify your goods & consultation.
Affordable Price
Get highly affordable Price and Discount on every shifting service.
Fast Delivery
Get a fast & safe delivery of your household goods at your doorstep.
24x7 Support
Get 24/7 Customer support over email, phone and Whatsapp chat.
🛡

Safe & Compliance

Cloudpackers relocate your households with complete safety and assurance. Get extra assurance with insurance, high-quality packing materials and skilled human resources.
💰

Cost Saving

The right type of packing material respective to goods from a skilled and trained workforce, transport chain and modern technology will save money. Right, consult for moving to make it easier.
💡

End to End Service Solution

Starting from scratch to settle at your destination we offer complete services where you can relocate your households, furniture, electronics, and vehicles to your living plants and pets.
🌐

Fast & Worldwide Network

Over a period of time, we enhance ourselves and our connections to the global market. And now we have a strong and fast worldwide packers and movers network.
💸

Insurance Coverage

By looking at the obstacles and risks of transportation to your belongings, we offer insurance coverage to your households to prevent you from any loss.
📦

Storage & Warehouse Facility

Get up to 30 days of absolutely free storage and warehouse facility from us. You can store your belonging with us for upto 30 days free while taking our packing and moving service.
🏗

Advanced Tool & Modern Shifting Method

For complete safety and extra protection, we use advanced tools and modern technology for packing and shifting households to your desired destination.
👷

Skilled Staff & Premium Packing Material

Over a half-decade Cloudpackers solving packing and moving issues with their well-trained staff and world-class packing materials. We use multilayer packing for the safest relocation.
Is the City of Joy no longer giving you joy while relocating? Are you getting nervous about which packer to contact at the last minute? Cloud Packers and Movers in Krishnanagar will come as a magician to solve your problems within minutes. You can shift within or outside krishnanagar and can hire us for the ease of all shifting activities. It can be for studies or work. Even you can change the location of your office. From krishnanagar, we assure you to take all your belongings most safely. You can avail of our services 24x7 and change your city whenever you want. Shifting to a new location requires a lot of hard labour. You alone can't pack everything at one go.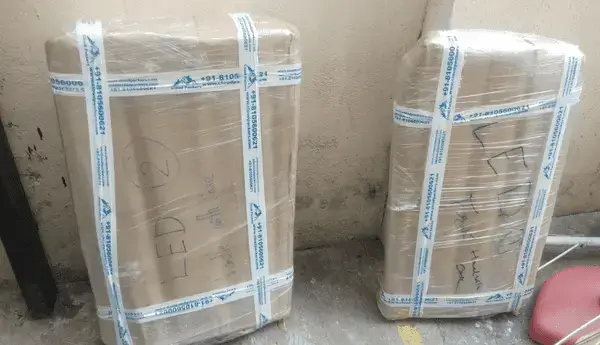 Packing and unpacking can be a tedious job if you do not get any professional help. Cloud Packers and Movers in krishnanagar is your true friend in such circumstances. We provide fast delivery of all your objects without any damage. For every shifting service, we also give attractive offers and discounts to every customer. To get an idea about the quality of services we offer, you can always check the reviews section of our page. Also, we are ready to give you a free consultation before hiring us finally. In this way, you will get an idea about our working style and the prices we generally charge for different objects. Our company also facilitates easy tracking of your packages through the brilliant network system we have. Thus, internet connections are bridging all the gaps between our experts and prospective clients.
Expert Services for Loading and Unloading
60% risk of damage can be reduced by proper loading and unloading of goods. Our expert professionals give excellent loading and unloading service for your furniture and articles. Cloud Packers team always believe in the best services at affordable costs. Not only small parcels and packages, but we also transfer bulky luggage even directly to the railway station, ports or airports. All the activities take place under the strict vigilance of our experts. So, there is no fear of any breakage or damage. Appropriate packing of every object makes it protective against any kind of weather conditions or accidents. While loading or loading the goods from the truck, we give full attention so that not a single piece goes spoiled. You can place complete trust in us, and we will do the rest. In short, Cloud Packers will turn your cumbersome shifting process into a smooth affair.
Responsible Packaging
We have different arrangements according to the types of objects. Some of the appropriate packaging materials include cartons, thermocol boxes and sheets, plastic bubbles, cardboard sheets and boxes, and gunny bags. We also do R&D and take customer suggestions to improve our packing material and packing techniques. We consider all your ideas wholeheartedly.
Cloud Relocation services in krishnanagar are never casual while packing glass objects. We apply special double-layered packing to avoid any kind of cracks on the glass body. Moreover, we don't charge anything extra for the same. We will give you the quote for all your goods at the beginning of the process itself. Once you agree with the price, only we can fix a date to carry out the relocation activities. There are wooden crates also to accommodate certain small and precious articles. Also, we ensure no loss or theft of your belongings during the whole journey from the source to the destination.
Impressive Transportation Facilities
Cloud Packers are always cautious about the things they transport. Our drivers are very much patient while embarking on the journey towards your destination. They take extra care and do not drive at a high speed to avoid probable damage to all your goods. However, they are skilled enough to carry out an on-time delivery as per the pre-determined schedule without failure. But, there can be some delays due to unavoidable circumstances or natural calamities. Movement with so many things amidst the crowded city of Kolkata can be challenging if you do not have the professionals involved in the same. Cloud Packers team in krishnanagar is the name of that expert who can turn everything in your favour and make your journey effortless. Whether you are hiring us for residential or commercial purposes, we don't hesitate to carry any article. The range of our commercial vehicles starts from small cars to a fleet of trucks. Thus, we are always ready to transport your things as you decide to relocate to a new place. We are one of the best reliable service providers when shifting is in your mind.
Contact Us Today
Booking our services in krishnanagar is very easy now. You can either call us or write an email specifying your needs. Also, you can easily hire us from the official webpage of Cloud Packers and Movers. Apart from krishnanagar, we extend our services to Kolkata, Pune, Mumbai, Bangalore and many other cities in India. We have verified movers with a 100% guarantee for the safe and fast delivery of all your articles. Besides, we have certifications from ISO for being a professional in supporting a hassle-free move.
We are a young brand in the packing industry but gradually becoming the leader in this field. You can even get free quotes by entering your details online. We give 24*7 customer support services to listen to all your queries and resolve the same. Cloud Packers and Movers in krishnanagar will undoubtedly make you're shifting process an easy one. Our motto is connecting people to improve communication. We are always one step forward to deliver joy and set a new standard for our services. We simplify the shifting efforts and give us new hope for easy transportation. In case of any disputes, you are always free to intimate us, and we will act immediately on your grievances.
There are so many packers and movers in Krishnanagar and the common charge for a packers and movers in Delhi is 3,500 to 50,000 depending upon where you are moving and number of households.
A packing and moving company calculates your moving budget by looking at your number of households, your relocation distance, required vehicle and the amount of packing materials will be used to pack and also include other factors like current petrol price, workforce, etc.
There are numerous packers and movers in India and to decide which one is best among them is too hard. But there is a simple concept to determine a good one is by looking at those packers and movers features like high-quality packing materials, free work force, fast delivery, good rating and reviews in social media and GMB, and most importantly free insurance.
Packers and movers in Krishnanagarwill visit your doorstep and analyze your households and after that they provide moving budget by measuring your required packing materials, human resources and required vehicle, etc.
You can easily calculate your moving expenses by considering some factors like your number of households, relocation distance, packing materials that will be used to pack, etc. There is a simple way to measure your moving budget by using Cloudpackers cost calculator by inputting some basic info about your relocation.