Cloud Packers and Movers In Deoghar
Get promising shifting service with superior packing material for fast and safe delivery from India No#1 packers and movers.
Get Free Quote
Write a review now
Packers and Movers In Deoghar
Get promising shifting service with superior packing material for fast and safe delivery from India No#1 packers and movers.
FREE Visit
Get free visit at your doorstep to verify your goods & consultation.
Affordable Price
Get highly affordable Price and Discount on every shifting service.
Fast Delivery
Get a fast & safe delivery of your household goods at your doorstep.
24x7 Support
Get 24/7 Customer support over email, phone and Whatsapp chat.
🛡

Safe & Compliance

Cloudpackers relocate your households with complete safety and assurance. Get extra assurance with insurance, high-quality packing materials and skilled human resources.
💰

Cost Saving

The right type of packing material respective to goods from a skilled and trained workforce, transport chain and modern technology will save money. Right, consult for moving to make it easier.
💡

End to End Service Solution

Starting from scratch to settle at your destination we offer complete services where you can relocate your households, furniture, electronics, and vehicles to your living plants and pets.
🌐

Fast & Worldwide Network

Over a period of time, we enhance ourselves and our connections to the global market. And now we have a strong and fast worldwide packers and movers network.
💸

Insurance Coverage

By looking at the obstacles and risks of transportation to your belongings, we offer insurance coverage to your households to prevent you from any loss.
📦

Storage & Warehouse Facility

Get up to 30 days of absolutely free storage and warehouse facility from us. You can store your belonging with us for upto 30 days free while taking our packing and moving service.
🏗

Advanced Tool & Modern Shifting Method

For complete safety and extra protection, we use advanced tools and modern technology for packing and shifting households to your desired destination.
👷

Skilled Staff & Premium Packing Material

Over a half-decade Cloudpackers solving packing and moving issues with their well-trained staff and world-class packing materials. We use multilayer packing for the safest relocation.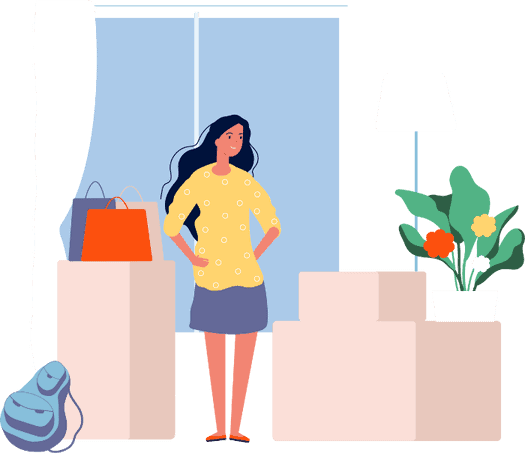 What do Packers and movers do?
Packers and movers are often a no-brainer when it comes to moving because they offer a simple solution to the complexity of modern living. They take the hassle out of packing and moving, which is not a small task, by performing these tasks for customers. This could include loading your possessions in a truck or storing them in a warehouse until your home is ready for them.
Packers and movers are quite common; however, there is quite the process involved if you are moving to any city. However, how much do you really know about this important part of moving
Here are some surprising facts to help set the record straight
Moving boxes aren't the only things to be worried about. There's also packing tape! It's like duct tape, but it's made of cardboard instead of rubber. Compressed packing cardboard is often used as stuffing material in your boxes to weigh them down, so they don't move around when they're being transported on trucks or trains or at home.
Deoghar is one of the crowdest cities in India, so you can expect it to be quite an ordeal to have your items moved there. Luckily, this isn't the case if you have a moving company on your side. Many of them have trucks that are capable of getting through traffic jams that would leave you stranded.
Packing is often an easy task, but many people find it overwhelming to pack books and other items with special care or sentimental value. However, there are professional packers who do nothing but pack up precious items with care. So, if this is something that worries you about relocation service in Deoghar, consider hiring professional packers movers in Deoghar or any city or state whatsoever.
It is very important for you to understand the need to stop pushing all your luggage and items from one place to another by yourself. Packers & movers are the ones who deal with all your hectic packing related to packing all your items and that too professionally.
Why are packers and movers important?
Packing and moving is a difficult and daunting task, but it doesn't have to be! When you're in the process of deciding whether or not to pack and move, you must take into consideration all the factors.
If you want to move on your own, then when do you start packing? How do you preserve your belongings? If these mental dilemmas don't appeal to you, there are always movers and packers. But how can we choose one company over another? We'll explore what makes a good mover or packer and share some tips for choosing the right one for your needs with this post.
The Right Price
It would be best if you compared the rates of packers and movers for shifting or packing services. You should also go through their packages attentively if they are providing similar services at different prices. The right price will make your life easy as it will save some money on hiring more skilled people or devices if needed.
Nowadays, companies also offer their services online, and you can book them easily through the internet. If you agree to the company's payment methods, you will be issued with an invoice, and then you can make your payment for shifting services.
So, you must go through each company's terms and conditions and check your budget if it fits for this purpose.
Proper arrangements
You must also systematically arrange everything like your household items, books, and other belongings to avoid any kind of confusion during the shifting process. It is an art to arrange things properly so that they do not get damaged or torn apart while transporting from one place to another as they might hit against other items as well as the walls of the vehicle.
Keep the above points in mind while you look for packers and movers and ensure that they will deliver their services according to your requirements.
Final Thoughts
Corporate relocation is a process that every business owner should go through once in a while. It is vital to ensure you have a safe and smooth transition from one location to another. Your home or office belongings must be taken care of in the best possible manner so that the company can start working from a fresh new location without any hindrance
If you don't hire reliable packers and movers, you may end up losing your items or even yourself from the clutches of corruption in your local area. This could be quite dangerous for your business continuity because if anything goes wrong during transportation, it will take months at times to get everything settled back properly again.
Cloud packers charge you a very decent amount with end-to-end solutions. The relocation cost depends on numerous considerations, but only two major factors influence the high, 1- no of items and 2- Total Distance. Here is a rough estimate of pricing to shift a house. 1BHK – 11500 – 15650 (Under 1000 Km) 2 BHK - 17359 – 24590 (Under 1000 Km)
We at cloud packers specialize and train to help you with any relocation needs. We can help you with interstate movement, local and domestic, along with international shipping too. Our all-over-India network can allow you to book smoothly anywhere in any part of India.
Cloud packers is the one-stop solution for all your shifting needs. If you want to book only transport service, you can, or if you can, book our 360 relocation package and get real peace of mind.
Cloud packers feature advanced and polished supply chain management, which gives you the tracking code and URL for tracking the movement of your goods on your figure tips.
Cloud packers give to end to end solution at your doorstep, so all the instigated service with relocation, such as loading, unloading, unpacking and reassembling, is offered proudly by us.
Are you in the process of moving your home from Mumbai to Ahmedabad? Then, we can understand your relocation worries. Some tips to make the process more manageable include selecting the best packers and movers and making a move only in specific months. You can make a move in November. Not many will love to relocate at this time if their children are studying in college or school. So, you can get a low price. Many opt to move only on the weekends. You can make a move from Tuesday to Thursday. You can get the best prices for the move. If you get stuck on the national highways on the weekend, it will take more time to reach the new destination.
If you have children, make a move when they have summer holidays. This will give you ample time to admit them to a new school. The children will also get time to adjust to their new home and make friends with the neighbors. The same concept even applies to college going students. When moving your household items based on weather, spring/fall are the best seasons. Please only make a move during the winter. Always remember these points before deciding on your shifting partner's moving date.
Professional Packers and movers in Deoghar like CloudPackers charges less but offers quality services. You can experience a damage-free relocation, and the best part is there will be no hidden charges. You will get to know everything upfront. The charges entirely depend on the distance and the number of belongings.
Cloud packers use a safe route and move slowly to avoid goods damage, but our proactive service nature and refining supply chain management save time and make the process faster. Here are the times we may need to relocate your house: 1 to 99 Km – Same-day Delivery 100 to 499 Km – 2 to 4 days of time 500 to 1499 Km – 3 to 6 Days of Time 1500 to 3000 Km – 7 to 9 days of time