Cloud Movers and Packers Mumbai to Surat
FREE Visit
Get free visit at your doorstep to verify your goods & consultation.
Affordable Price
Get highly affordable Price and Discount on every shifting service.
Fast Delivery
Get a fast & safe delivery of your household goods at your doorstep.
24x7 Support
Get 24/7 Customer support over email, phone and Whatsapp chat.
🛡

Safe & Compliance

Cloudpackers relocate your households with complete safety and assurance. Get extra assurance with insurance, high-quality packing materials and skilled human resources.
💰

Cost Saving

The right type of packing material respective to goods from a skilled and trained workforce, transport chain and modern technology will save money. Right, consult for moving to make it easier.
💡

End to End Service Solution

Starting from scratch to settle at your destination we offer complete services where you can relocate your households, furniture, electronics, and vehicles to your living plants and pets.
🌐

Fast & Worldwide Network

Over a period of time, we enhance ourselves and our connections to the global market. And now we have a strong and fast worldwide packers and movers network.
💸

Insurance Coverage

By looking at the obstacles and risks of transportation to your belongings, we offer insurance coverage to your households to prevent you from any loss.
📦

Storage & Warehouse Facility

Get up to 30 days of absolutely free storage and warehouse facility from us. You can store your belonging with us for upto 30 days free while taking our packing and moving service.
🏗

Advanced Tool & Modern Shifting Method

For complete safety and extra protection, we use advanced tools and modern technology for packing and shifting households to your desired destination.
👷

Skilled Staff & Premium Packing Material

Over a half-decade Cloudpackers solving packing and moving issues with their well-trained staff and world-class packing materials. We use multilayer packing for the safest relocation.
Once you call at the number given on our website. www.cloudpackers.com our representative visits your place. Depending on the requirements he analyses the relocation requirements. Gives an estimate and details you about how the shifting would be done. Every detail of how we help you shift is also provided on our website. The rates once told are not changed.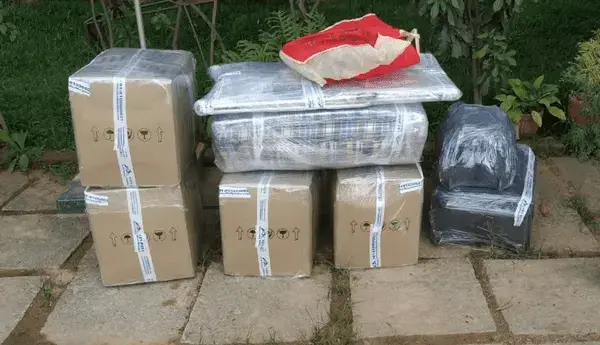 Our Packers are professionals to the core
Our Cloud Movers and Packers Mumbai to Surat is true professionals. The packaging material is truly world class. The use of bubble packing is done. All the fragile stuff is packed in wooden containers which are specially designed for the purpose. The goods are brought down carefully from high rises to the double door carriers which are waiting down under to finally transport the goods. The double door carriers can be used to transport goods of more than one client at a time. We are not just doing business. We care for you.
International standard warehouses
In certain cases there arise situations where your goods have to be transported to warehouses. This may be because you have to vacate your existing premises immediately and your new premises in the new city is not 100% ready. In such a situation our warehouses take care of your goods. The warehouses are world class. They are properly fumigated and crystal clear. The goods at our warehouses are equally safe as they were in your homes. The goods are reloaded into carriers as and when the new premises is ready for shifting.
We help shift vehicles also
Although the distance between Mumbai and Surat is just about 290 Kms. but still if the client desires we help shift vehicles like cars and bikes to your new place. We have got special carriers for this and we take care that no damages and scratches occur to your dream machines.
We have won the trust of our clients trust through sustained hard work
Cloud Movers and Packers Mumbai to Surat have won the trust of our clients. Our clients have been happy through the services we have offered to them. When the shifting was initially planned many clients have doubts in their minds. However, when we finally place the goods of the clients to the new places we always see smiles on their faces. These smiles are our accolades. We are not just doing business. We have won hearts. Some clients who undergo repeated transfers owing to their high profile jobs have availed of our services again and again.
From the first visit of our representative to the last day when the goods are finally handed over to our clients the staff that we have to the loaders and the packers are very courteous. They are trained in such a way by cloud packers. The spirit of service is imbibed into them. This is the reason why we are one of the leading packers and movers in the cities of Mumbai, Bangalore, Hyderabad, Chennai and Pune. Our work speaks for us. It has been a journey of sustained hard work that we have reached to the point where we are as on date.
Don't wait just give us a call
We are just a call away. If you are planning to shift from one city to another city just give us a call and our representative will be on your doorsteps just to serve you. You may leave all your relocation worries to us and we will take care of all your needs. We want to add you to our long list of satisfied clients. We will shift goods, vehicles and your pets from Mumbai to Surat. You have to leave all your worries with us and just chill.
Packers and Movers Mumbai to Surat Charges
Cloud Packers deliver excellent service with a very nominal charge compared to others.
By analyzing and understanding your requirement, we consult you on the best to save your money. We suggest the goods which can be sold to save of moving.
Recommend you small staff that can move with your handbag like documents, important gadget, jewelry, a small electric gadget to reduce your moving budget and safety of your valuable goods.
Donate your old and not using goods like cloth and book to society needy and save money.
We can also help to set your luggage with our professionals for full-proof packing.
| Goods Size | Packing Charges | Transportation Cost | Total Cost (Approx) |
| --- | --- | --- | --- |
| 1 BHK | 7,550 - 11,000 | 14,200 -17,400 | 21,750 - 28,400 |
| 2 BHK | 12,250 - 15,540 | 17,000 - 20,300 | 29,250 - 35,840 |
| 3/4 BHK | 15,150 - 17,790 | 21,900 - 28,300 | 37,050 - 45,990 |
| Office or Large Shifting | 23,600 - 26,800 | 27,750 - 34,900 | 51,350 - 61,700 |
(Note - This pricing is a rough estimate, the actual price may differ from the given price depending on item type and the number of the item you want to transport.)
Packers and Movers Mumbai to Surat
Get promising shifting service with superior packing material for fast and safe delivery from India No#1 packers and movers.
Get Free Quote
Write a review now