Cloud Movers and Packers Bangalore to Bhopal
FREE Visit
Get free visit at your doorstep to verify your goods & consultation.
Affordable Price
Get highly affordable Price and Discount on every shifting service.
Fast Delivery
Get a fast & safe delivery of your household goods at your doorstep.
24x7 Support
Get 24/7 Customer support over email, phone and Whatsapp chat.
🛡

Safe & Compliance

Cloudpackers relocate your households with complete safety and assurance. Get extra assurance with insurance, high-quality packing materials and skilled human resources.
💰

Cost Saving

The right type of packing material respective to goods from a skilled and trained workforce, transport chain and modern technology will save money. Right, consult for moving to make it easier.
💡

End to End Service Solution

Starting from scratch to settle at your destination we offer complete services where you can relocate your households, furniture, electronics, and vehicles to your living plants and pets.
🌐

Fast & Worldwide Network

Over a period of time, we enhance ourselves and our connections to the global market. And now we have a strong and fast worldwide packers and movers network.
💸

Insurance Coverage

By looking at the obstacles and risks of transportation to your belongings, we offer insurance coverage to your households to prevent you from any loss.
📦

Storage & Warehouse Facility

Get up to 30 days of absolutely free storage and warehouse facility from us. You can store your belonging with us for upto 30 days free while taking our packing and moving service.
🏗

Advanced Tool & Modern Shifting Method

For complete safety and extra protection, we use advanced tools and modern technology for packing and shifting households to your desired destination.
👷

Skilled Staff & Premium Packing Material

Over a half-decade Cloudpackers solving packing and moving issues with their well-trained staff and world-class packing materials. We use multilayer packing for the safest relocation.
Bangalore city shot into the limelight in the 1990s, when the place became a hub for software companies (domestic and international) to make their mark. Then came the emergence of BPOs from the years 2000 to 2010 and from 2010 to recent, it is considered the best place for start-ups. The workforce of Bangalore consists of vibrant youth and experienced personnel from all sectors. There are no dearth's of articles regarding the splendour of Bangalore you will find on the internet. But first, let us look at the relocation part.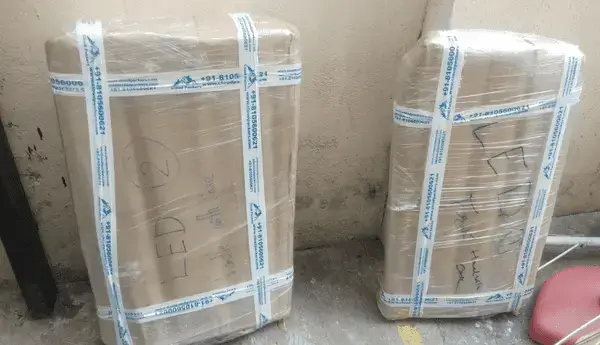 Bhopal (nickname – the City of Lakes) is the capital of India's second most populated state, Madhya Pradesh. It upholds its charm and grace in a manner where the old easily co-exists in absolute harmony with the present. Over time, Bhopal has also progressed in development in all sectors and the return of "sons and daughters of the soil" has started. Bhopal has multiple industries, such as cotton, electrical goods, jewellery, and cloth weaving. It is also home to the famous DB Corp, which publishes Dainik Bhaskar, the popular newspaper.
One of the most trusted relocation companies in recent times, Cloud packers and movers Bangalore to Bhopal, has created a service format where we will hear your requirements, queries and doubts clarified. Regardless of the challenges or complexities in the relocation, our team, by focusing on its recent user-friendly technology, branch offices in all States and well-trained teams, create excellent solutions and provide value to you, the customer.
We are ready to help any business shift of corporate goods ranging from large companies to small industrial units. Although Cloud Packers have served clients from diverse backgrounds, we are on the path of constant exploring – to provide the best services that satisfy the customer.
We also provide our services in Bangalore's small towns like packing and moving services in Marathahalli
Why Choose Cloud Packers and Movers in Bhopal?
On the internet, there are lots of packers and movers services available. But all are not good, and you have to find out which one is good or bad. Many companies are trying to earn money by making fools of people.
In Bhopal, you can see around 20+ packers and movers. When it comes to choosing one of them, there are lots of things you need to know. We give some key points that can help you select perfect packers and movers in Bhopal, and also we describe why you need to choose cloudpackers.
Service Price
While choosing packers and movers, price is one of the essential parts. People always try to finish their work at a low cost, it may be working in other situations, but in the shifting household, this may break your thought.
People often choose the cheapest one to save money, but their service will break or scratch your goods, which will hit your pocket hard. On the other hand, some packers and movers in Bhopal are charging a massive amount of money, but that is a waste.
We have been working for several years in Bhopal, so we have a well-established network all over India, and we have teams of highly trained professionals. So our cost of service is comparatively low rather than other packers and movers.
If you know more details about the price of relocating your goods, you have to make a missed call. We will go to your doorstep and help you decide the price by looking at your goods and location.
Also, you should know that lots of packers and movers charge low money on service, but they will add lots of hidden costs at the time of delivery. Cloudpackers never charge a single amount of hidden charge.
Best Packaging Service
Another thing that is important while choosing the right packers and mover is the packaging. Packaging is a procedure where your products are packed with some materials. There are lots of companies who pack the product very carelessly that may break or scratch goods.
Mostly the customer can't be able to see those packaging while choosing the right packers and movers. That's the reason most packers and movers can cheat their customers. But we are different we provide lots of information about packaging to our customers while they talk with us.
If we talked about shortly, we used three lairs of the packing process: carbon sheets, bubble wrap, and waterproof laminations.
Professional Packers and Movers
We have a team of the best packers and movers in Bhopal who are highly trained in their work. We send them to your location for packing, loading, unloading, transporting, and unpacking.
They worked in this industry for more than five years of experience to deal with all kinds of household products. If you choose us, we promise you to deliver your goods to your new location safely.
Free Insurance For Your Goods
Most of the packers and movers in Bhopal cannot give you any insurance on your goods damage. But Cloudpackers can provide you with insurance for your losses.
While loading, unloading and transporting, there is much chance that your goods may be broken or damaged. To deal with your losses, we forward our hand by providing insurance, and we can give you a compensation amount of around 80-90 percent of your losses. (Terms and conditions applied)
Other Free Services
Also, we have some free services like giving our customers a free audit while making their cost of our services. We take responsibility to go to our customer's doorstep to check their goods and their location.
While deciding the cost of transportation, we give some tips to our customers on how they can minimize their budget. As you know, we always believe in transparency, so we provide all necessary recommendations to reduce their cost. That's why nowadays we can able to deal with all over India.
Packers and Movers Bangalore to Bhopal Charges
Due to job or other reasons, many people change their houses or offices from one place to another. If you are looking for any packers and movers in Bangalore to Hyderabad and want to know your relocation price. Then you can see below that how much is your relocation cost from Bangalore to Chennai. In addition, you can see relocation costs from Bangalore to other cities like packers and movers cost from Bangalore to Hyderabad or moving charges from Bangalore to Chennai.
| Goods Size | Packing Charges | Transportation Cost | Total Cost (Approx) |
| --- | --- | --- | --- |
| 1 BHK | 7,550 - 11,000 | 14,200 -17,400 | 21,750 - 28,400 |
| 2 BHK | 12,250 - 15,540 | 17,000 - 20,300 | 29,250 - 35,840 |
| 3/4 BHK | 15,150 - 17,790 | 21,900 - 28,300 | 37,050 - 45,990 |
| Office or Large Shifting | 23,600 - 26,800 | 27,750 - 34,900 | 51,350 - 61,700 |
(Note - This pricing is a rough estimate, the actual price may differ from the given price depending on item type and the number of the item you want to transport.)
Packers and Movers Bangalore to Bhopal
Get promising shifting service with superior packing material for fast and safe delivery from India No#1 packers and movers.
Get Free Quote
Write a review now