Packers and Movers In Jamshedpur
Get promising shifting service with superior packing material for fast and safe delivery from India No#1 packers and movers.
FREE Visit
Get free visit at your doorstep to verify your goods & consultation.
Affordable Price
Get highly affordable Price and Discount on every shifting service.
Fast Delivery
Get a fast & safe delivery of your household goods at your doorstep.
24x7 Support
Get 24/7 Customer support over email, phone and Whatsapp chat.
🛡

Safe & Compliance

Cloudpackers relocate your households with complete safety and assurance. Get extra assurance with insurance, high-quality packing materials and skilled human resources.
💰

Cost Saving

The right type of packing material respective to goods from a skilled and trained workforce, transport chain and modern technology will save money. Right, consult for moving to make it easier.
💡

End to End Service Solution

Starting from scratch to settle at your destination we offer complete services where you can relocate your households, furniture, electronics, and vehicles to your living plants and pets.
🌐

Fast & Worldwide Network

Over a period of time, we enhance ourselves and our connections to the global market. And now we have a strong and fast worldwide packers and movers network.
💸

Insurance Coverage

By looking at the obstacles and risks of transportation to your belongings, we offer insurance coverage to your households to prevent you from any loss.
📦

Storage & Warehouse Facility

Get up to 30 days of absolutely free storage and warehouse facility from us. You can store your belonging with us for upto 30 days free while taking our packing and moving service.
🏗

Advanced Tool & Modern Shifting Method

For complete safety and extra protection, we use advanced tools and modern technology for packing and shifting households to your desired destination.
👷

Skilled Staff & Premium Packing Material

Over a half-decade Cloudpackers solving packing and moving issues with their well-trained staff and world-class packing materials. We use multilayer packing for the safest relocation.
Our Success Story

70000+
Homes Moved

21+
Cities Covered
200+
Verified professional
98%
satisfied Customers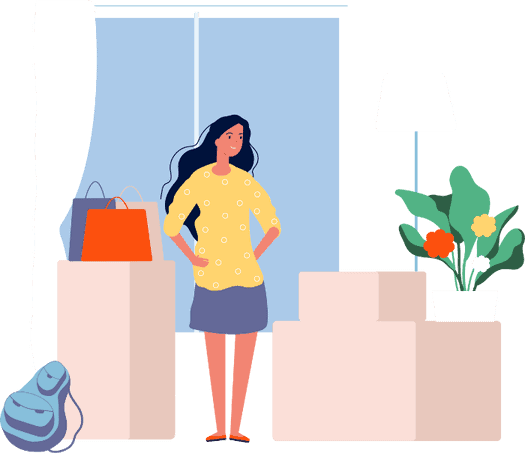 Best packers and movers in Jamshedpur with affordable prices.
It is very decisive to hire a reliable moving company in Jamshedpur that must feature advanced equipment and follow all industry-standard benchmarks. Cloud packers and movers in Jamshedpur is the most trusted and reliable packers serving science 2017. Our overture service end-to-end shifting solution makes us a one-stop solution. Our ingenious packing approach, appreciable infra and all India branches lower the shipping cost at its best.
Hire Cloud packers and movers Jamshedpur with confidence.
You may need highly professional packers with excellent service amplitude when planning a house move. Finalizing cloud packers will reduce damage fear and give you peace of mind. Using suitable packing materials and resources makes your shifting smooth and saves tremendous time. Cloud packers team is flexible with any shared plight to experience your finest relocation experience even under a tight budget.
At cloud packers and movers Jamshedpur, we are available 24x7 to assist and accept any challenging situations. Let's hire Cloud packers team and celebrate your house moving with great joy.
Advantage of hiring Cloud packers and movers
Moving is often one of the foremost stressful and frustrating periods in someone's life and you surely don't need one. One of the best ways to reduce this stress is to hire a professional moving company in Jamshedpur which will pack and move your belongings for you. Packers and movers Jamshedpur provide an entire range of services such as:
● Packing or unpacking: We will pack all your belongings securely and will deliver them to your new residence and will also unpack them. We use premium packing material and advanced equipment to enhance safety and customer experience. We use packing materials such as boxes, cargo sheets, Bubble warp, lamination etc.
● Shifting or relocating: Shifting or relocating an entire household, unloading your car, and providing labour support during home renovation projects is a job in which packers and movers are highly experienced. We use different types of closed container trucks with different sizes. We also provide part loading or sharing trucks to our users for cost saving shipping.
● Pickup and drop facility: Cloud packers and movers Jamshedpur will pick up all your belongings from your home after packing them and will drop all your things at your place and will unpack them as well. We are flexible in terms of delivery dates as per the client's requirements. We also provide free storage for certain days.
● Cancellation policy: Packers and Movers provide you with a free cancellation policy. They do not charge any fee if you cancel them at the end moment.
● Packers and movers are highly skilled people which is why they cut down the time period of shifting or relocating the house or office.
● They have proper knowledge about the use of the material they have to use to pack the furniture, artefacts etc.
● Safety of goods is something which is the top priority of packers and movers. They ensure that every item is safely delivered to your new residential place.
● Insurance policy: This one of the most interesting features of packers and movers. They look after all the damages if any occur during the shifting process.
● Tracking of Consignment: You don't have to worry about the delivery of the items. You can keep track of your items from pick up to the destination point, making your relocation less stressful.
● Documentation: Content
● one To make the relocation easy and safer, proper documentation is done. It is always suggested to keep a proper eye on the papers and read it carefully before you finally agree.
● Reliable: To work with someone needs trust. If you are planning to appoint Packers and Movers Jamshedpur, then it is important to make a reliable connection.
● 24*7 availability: From our inception, we had had the opportunity to deal with a number of customers. This has made us get some amazing experiences and we have refined our services through that. This experience has made us realise the importance of being with our customers throughout the day and night. Our agents are always available for the customers 24*7. You can literally call Cloud Packers at any time of the day and ask as many questions and queries you want to, our agents will be there for you throughout and will answer queries in length.
● Time Efficiency: The motto of our company is 'Customer Satisfaction'. We have always believed that customers are the Kings of the format and satisfying them is the key to success. We have always valued time much more than money as for us 'Time is Money'. We understand that the customers are in a hurry and don't have extra time to the sphere. Without wasting every a second, our agents provide very efficient services and that too on time. We have never had a past record for being late in our services.
Self Packing and moving tips
The D-day has arrived when you have to shift from your present home in Kandivali in Jamshedpur to another area in the city. You are interested in making a move on your own rather than opting for the best packers and movers in Jamshedpur. However, the DIY method requires more than meticulous planning to achieve success. Let's explore 4 self-moving tips that may help you move on your own.
● Remove the Useless items: How will you feel if the move has included every item in your present home, and after unloading, you throw the unwanted clothes and toys into the dustbin? It is a waste of time & money to transport unwanted items. So, call a discussion with every family member and either sell the useless items or donate them to charity.
● Banned Goods: If you have flammable material, chemicals, paint or gas cylinders, it is against Government rules to transport them by vehicle. If you have a business related to these items, you must transport them at your own risk.
● First, List & Pack your Belongings: You must first make a list of household items. Then prepare a plan for packing the items. You must buy packing material such as bubble wrap, corrugated sheets and more. Buy strong boxes for the loading of fragile items. Transportation Vehicle - This is the most important part of a DIY self-moving method. Imagine you have packed and waited for the truck and it has yet to arrive. What will you do? So, you need to book a reliable truck driver to do the job.
If your son or brother is going along with the truck to the new house, you are then easier said than done. However, if none of your family members are going on the truck, you need to take images of the boxes on the truck. Ensure your plan is fool-proof and none of your items is delivered to your home in a damaged condition.
Tips to reduce shifting charge while relocation
Moving to a new home brings happiness to you and your family. Nowadays, we don't have only stuff at home. We have emotions attached to it. Whenever we plan for such activities, we must plan properly; otherwise, it can be a costly event. We love to save money, even if it is a tiny contribution, so why not while moving to a new place?
There are many steps we have to consider related to relocation. From planning to packing and transporting, we can't ignore a small thing. However, there are numerous steps that we can take to reduce our moving expenses and keep them pocket-friendly.
● Make a relocation strategy - "Strategy" looks like a normal word to everyone, but those who understand its importance can get their work done faster and in less time. Once you block your calendar for your moving day, please note all the important things you have to do. The sooner you move your plan, the more money you will save. When you have ample time to think about planning, your moving cost is eventually reduced. You have to prepare a list of Packers and Movers that will help you find reliable agents for your relocation and grab a great deal from them.
● Declutter items in your home - When you are planning to move into a new home, there are lots of stuff. Some are useful and some unless. So, in that case, we should denote or sell things that are not in use and maybe those goods are useful for others. The main point is that when you move with a limited budget, you make sure you have fewer goods.
● Hire shared Transport - If you are shifting in a short distance, have fewer household items, and want to decrease your cost, shared Transport is the best option to choose because your cost can be shared with others. If you are choosing long-distance for shifting, a better option is to choose a separate truck because of the risk of breakage due to loading and unloading items.
● Use your packing material - Moving and shifting is one of the most stressful times. At that time, so a question came to our mind about the safety and expenses of our goods. If you want to save your expenses, use your packing material easily available at any grocery store, chemist, etc.
● Pre-booking shifting service- If you want to hire the best movers and packers, then you must consider pre-booking services because you have lots of time to research reliable and trusted services and you are also able to save money because at the last moment when you hire services, they will charge heavy money. And you will also get time to segregate all the stuffed.
Services offered by packers and movers in Jamshedpur
Cloud packers and movers in Jamshedpur offer all kinds of shifting services from Jamshedpur to any part of the world. Being a leading shifting service provider we have an adequate amount of resources to aspect any kind of shifting challenge under any circumstance.
Within city Home relocation Service (Local Shifting Service)
Moving with city or moving a very short distance can be taken care of by cloud packers Jamshedpur teams. This can be accomplished same day with moderate packing. Moving short distances is safe and our reusable plastic carrier and trunk box make your shiting cost low. Select movers and packers in Jamshedpur to make your house relocation simple and stress-free.
Intercity Home Relocation Service (Domestic Shifting Service)
Moving to a different city can occur occasionally but it is a haptic and time taking process. Long distance movement needs excellent packing and special loading skills for safe shifting. We at cloud packers use advanced packing material and suitable trucks for intercity movement. Selecting the best route and proper loading skills can reduce goods damage by 20 to 30% for long distance moves.
Vehicle Moving Service(Car and Bike)
Vehicle such as car and bike needs movement for long distance only such as more than 300 km, for Short distance any one can drive and reach the destination. We have a special truck with a container for bike and car movement. 2 wheelers need intact packing where car wheel needs to be fixed using a steel stand and nylon strap. This long car container tuck moves very slowly and always chooses highways for smooth movement.
Storage or Warehouse
In some cases, you may need to store your household goods for the short or long term. If you are moving abroad for some years or you shift your home temporarily for the pandemic etc are the reason you need a storage facility. Short term facilities can save a lot of money and it avoids multiple shifting hassles also. Cloud packers Jamshedpur have a specious warehouse with appropriate facility.
Cloud packers charge you a very decent amount with end-to-end solutions. The relocation cost depends on numerous considerations, but only two major factors influence the high, 1- no of items and 2- Total Distance. Here is a rough estimate of pricing to shift a house. 1BHK – 11500 – 15650 (Under 1000 Km) 2 BHK - 17359 – 24590 (Under 1000 Km)
We at cloud packers specialize and train to help you with any relocation needs. We can help you with interstate movement, local and domestic, along with international shipping too. Our all-over-India network can allow you to book smoothly anywhere in any part of India.
Cloud packers is the one-stop solution for all your shifting needs. If you want to book only transport service, you can, or if you can, book our 360 relocation package and get real peace of mind.
Cloud packers feature advanced and polished supply chain management, which gives you the tracking code and URL for tracking the movement of your goods on your figure tips.
Cloud packers give to end to end solution at your doorstep, so all the instigated service with relocation, such as loading, unloading, unpacking and reassembling, is offered proudly by us.
Are you in the process of moving your home from Mumbai to Ahmedabad? Then, we can understand your relocation worries. Some tips to make the process more manageable include selecting the best packers and movers and making a move only in specific months. You can make a move in November. Not many will love to relocate at this time if their children are studying in college or school. So, you can get a low price. Many opt to move only on the weekends. You can make a move from Tuesday to Thursday. You can get the best prices for the move. If you get stuck on the national highways on the weekend, it will take more time to reach the new destination.
If you have children, make a move when they have summer holidays. This will give you ample time to admit them to a new school. The children will also get time to adjust to their new home and make friends with the neighbors. The same concept even applies to college going students. When moving your household items based on weather, spring/fall are the best seasons. Please only make a move during the winter. Always remember these points before deciding on your shifting partner's moving date.
Professional Packers and movers in Jamshedpur like CloudPackers charges less but offers quality services. You can experience a damage-free relocation, and the best part is there will be no hidden charges. You will get to know everything upfront. The charges entirely depend on the distance and the number of belongings.
Cloud packers use a safe route and move slowly to avoid goods damage, but our proactive service nature and refining supply chain management save time and make the process faster. Here are the times we may need to relocate your house: 1 to 99 Km – Same-day Delivery 100 to 499 Km – 2 to 4 days of time 500 to 1499 Km – 3 to 6 Days of Time 1500 to 3000 Km – 7 to 9 days of time
Cloud Packers and Movers In Jamshedpur
Get promising shifting service with superior packing material for fast and safe delivery from India No#1 packers and movers.
Get Free Quote
Write a review now