Packers and Movers Mumbai to Hyderabad
Get promising shifting service with superior packing material for fast and safe delivery from India No#1 packers and movers.
Get Free Quote
Write a review now
Cloud Movers and Packers Mumbai to Hyderabad
FREE Visit
Get free visit at your doorstep to verify your goods & consultation.
Affordable Price
Get highly affordable Price and Discount on every shifting service.
Fast Delivery
Get a fast & safe delivery of your household goods at your doorstep.
24x7 Support
Get 24/7 Customer support over email, phone and Whatsapp chat.
🛡

Safe & Compliance

Cloudpackers relocate your households with complete safety and assurance. Get extra assurance with insurance, high-quality packing materials and skilled human resources.
💰

Cost Saving

The right type of packing material respective to goods from a skilled and trained workforce, transport chain and modern technology will save money. Right, consult for moving to make it easier.
💡

End to End Service Solution

Starting from scratch to settle at your destination we offer complete services where you can relocate your households, furniture, electronics, and vehicles to your living plants and pets.
🌐

Fast & Worldwide Network

Over a period of time, we enhance ourselves and our connections to the global market. And now we have a strong and fast worldwide packers and movers network.
💸

Insurance Coverage

By looking at the obstacles and risks of transportation to your belongings, we offer insurance coverage to your households to prevent you from any loss.
📦

Storage & Warehouse Facility

Get up to 30 days of absolutely free storage and warehouse facility from us. You can store your belonging with us for upto 30 days free while taking our packing and moving service.
🏗

Advanced Tool & Modern Shifting Method

For complete safety and extra protection, we use advanced tools and modern technology for packing and shifting households to your desired destination.
👷

Skilled Staff & Premium Packing Material

Over a half-decade Cloudpackers solving packing and moving issues with their well-trained staff and world-class packing materials. We use multilayer packing for the safest relocation.
To begin with, welcome to our webpage of Packers and Movers Mumbai to Hyderabad team. Yes, we can guess the real intention why you have landed on this page. You are a business owner who wants to open a branch office in Hyderabad. So, there is some office equipment which you want to shift from Mumbai to Hyderabad. Please note, we have handled hundreds of moves from Mumbai branch and they have been related to home relocation services, cargo shifting services, car shifting services and even industrial equipment. Our management has designed various customer-friendly packages for every user. The main reason, Cloud Packers has become one of the preferred companies by many in the shifting services industry. Our movers team involve experienced packing professionals, seasoned vehicle drivers for transportation, and the special equipment team. Let us focus on the various reasons you have to opt for office relocation from our Cloud Packers Mumbai team.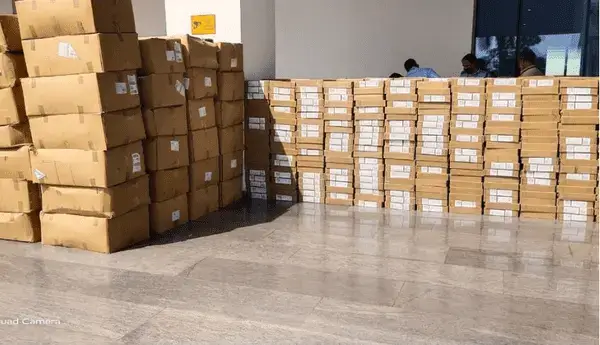 Mumbai to Hyderabad is 705 Km. It is a good amount of distance as far as shifting from Mumbai to Hyderabad or from Hyderabad to Mumbai is concerned. Well, first it gives goosebumps. How will we manage? How will the packing be done? How will the packing of fragile items be done? Which vehicle will have to arrange for? Will it be a good transport company? Will our items reach safely? How will the unloading be done?
These are some of the many questions which will keep cropping one's mind. The answers to these questions will leave the individual drained out. He will not be able to fathom the answers to all these questions.
Under this situation what to do?
The answer to this question is simple. You need the services of Packers and movers. We at www.cloudpackers.com are the best in the business. We cater to relocation at various places i.e. Pune to Delhi, Pune to Noida, Pune to Mumbai, Pune to Kolkata, Pune to Chennai, Bangalore to Pune, Bangalore to Delhi. The list is endless. This is because we are having our offices in Bangalore, Pune and Hyderabad. Our latest office is at Mumbai that is the reason why we have started our service from Mumbai to Hyderabad.
We are Fast
We are not just reliable. We are fast as well. We understand that when you are moving from Mumbai to Hyderabad i.e. a change of residence is involved the goods need to be carried out in an efficient and fast manner. Time is precious for you. We also understand that you have very little time for relocation as you have also to come back in a regular life at the new place. For that, you need someone who transports the goods service for you in a manner where no breakages occur, and the goods are also carried from Mumbai to Hyderabad in the least possible time.
Secured Delivery
Secured Delivery is assured when you hire our services. Proper planning is done by our representatives before the goods are packed. It involves both how to pack the goods but also includes planning about the vehicle which has to be used in transportation. It has to be ensured that if due to some untoward weather situation goods have to be kept in a warehouse how it will be done. Our representative backed by the facilities provided by us chalks out everything for the client. Every detail is told to the client. He is also told about the estimated time it will take to reach the destination which in this case is Hyderabad or vice-versa.
We are available 24 x 7
Our customer care is available 24 x 7. You can dial anytime our numbers which are available on our website www.cloudpackers.com. Every query of yours will be addressed. You can be told about the place where your goods have reached. In case you are a new customer our representative will visit the place where goods have to be relocated.
Don't try to move from one city to another on your own. You require the services of cloud packers to make your task easy. Cloud Packers and Movers Mumbai to Hyderabad will surely help you in this arduous task by providing us the best services so that your journey and the relocation of your goods and vehicles may be carried out in the smoothest manner possible. We need smiles on your faces. We want that the start of your new city life may be the smoothest. Don't worry when we are there at your disposal.
Packers and Movers Mumbai to Hyderabad Charges
Cloud packers and movers Mumbai offers a broad range of packing and moving facilities for easy and cushy relocation. Packers and movers Mumbai to Hyderabad avail magnificent packing materials, advanced packing techniques, a skilled workforce, and suitable vehicles for effortless and healthy movement.
Acquired numerous appease customers with affordable and most acceptable moving services. Cloud packers and movers completed 20,000+ movements in the past half-decade in India. And now, Cloud packers is one of the leading and prominent packers and movers in India by building a presence all over India.
Get customized packing materials for your households. And enjoy world-class secured moving service with well-trained packing and moving experts. Now shift your entire households with packers and movers from Mumbai to Hyderabad without any perspire.
Cloud Packer's dedicated relationship manager will accelerate your shifting by providing end-to-end assistance in your relocation. Get a personalized shifting service on your demand while relocating through packers and movers Mumbai to Hyderabad. For smooth and efficient relocation, we avail insurance for your households.
For reassurance and relaxation Cloud packers and movers include live tracking and a day-night, 24/7 support system to kill your worries and dilemmas.
| Goods Size | Packing Charges | Transportation Cost | Total Cost (Approx) |
| --- | --- | --- | --- |
| 1 BHK | 7,550 - 11,000 | 14,200 -17,400 | 21,750 - 28,400 |
| 2 BHK | 12,250 - 15,540 | 17,000 - 20,300 | 29,250 - 35,840 |
| 3/4 BHK | 15,150 - 17,790 | 21,900 - 28,300 | 37,050 - 45,990 |
| Office or Large Shifting | 23,600 - 26,800 | 27,750 - 34,900 | 51,350 - 61,700 |
(Note - This pricing is a rough estimate, the actual price may differ from the given price depending on item type and the number of the item you want to transport.)