Cloud Movers and Packers Delhi to Mumbai
FREE Visit
Get free visit at your doorstep to verify your goods & consultation.
Affordable Price
Get highly affordable Price and Discount on every shifting service.
Fast Delivery
Get a fast & safe delivery of your household goods at your doorstep.
24x7 Support
Get 24/7 Customer support over email, phone and Whatsapp chat.
🛡

Safe & Compliance

Cloudpackers relocate your households with complete safety and assurance. Get extra assurance with insurance, high-quality packing materials and skilled human resources.
💰

Cost Saving

The right type of packing material respective to goods from a skilled and trained workforce, transport chain and modern technology will save money. Right, consult for moving to make it easier.
💡

End to End Service Solution

Starting from scratch to settle at your destination we offer complete services where you can relocate your households, furniture, electronics, and vehicles to your living plants and pets.
🌐

Fast & Worldwide Network

Over a period of time, we enhance ourselves and our connections to the global market. And now we have a strong and fast worldwide packers and movers network.
💸

Insurance Coverage

By looking at the obstacles and risks of transportation to your belongings, we offer insurance coverage to your households to prevent you from any loss.
📦

Storage & Warehouse Facility

Get up to 30 days of absolutely free storage and warehouse facility from us. You can store your belonging with us for upto 30 days free while taking our packing and moving service.
🏗

Advanced Tool & Modern Shifting Method

For complete safety and extra protection, we use advanced tools and modern technology for packing and shifting households to your desired destination.
👷

Skilled Staff & Premium Packing Material

Over a half-decade Cloudpackers solving packing and moving issues with their well-trained staff and world-class packing materials. We use multilayer packing for the safest relocation.
CLoudpackers services are available in many cities of India. Our trained team members remain familiar with every aspects of shifting such as domestic, city to city and even Interstate. We also provide additional facilities such as warehousing services etc. If you are making a move from Delhi to Mumbai, or across any interstate, regular communication is essential. We ensure to provide a number that will be accessible 24/7 (customer care service). Please note, we have vehicles with the most recent technologies to suit every relocation process. So, are you getting ready to reach the mobile to make a call to us, Cloudpackers for availing of the services of Delhi to Mumbai movers and packers team?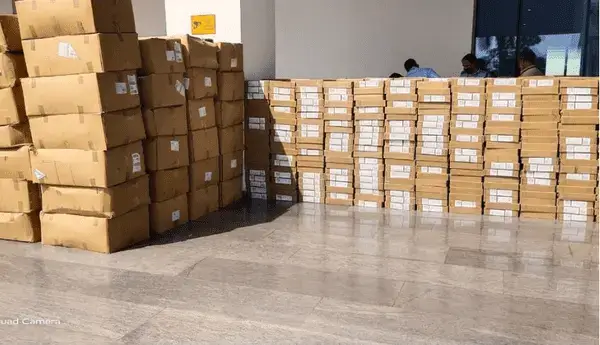 We do not have just a website, and some free lance workers as employees. We have a dedicated movers Delhi to Mumbai team, who are back-ground verified, trained professionals with years of experience. Our company has always adapted the recent technologies & practices when it comes torelocation services.
Moving Interstate
If you want to make the relocation a success, you will have to work along with our professionals as a team. We can help prepare the checklist for the entire shifting process which will have valuable tips from the experts in the industry.
Activities You Should Complete a Day before the Moving Date –
You need to check every point in the relocation plan list is perfect. In short, it is a last minute check. Yes, you need to plan many days before in advance however; there are some tasks you cannot complete at the last minute. So, these points will help you –
There are some items you may have to pack by yourself – your clothes, some glassware items, jewellery and others. Ensure you label them properly to identify them at the new location.
Please do not forget to take the insurance/medical documents and others.
If you are taking your pets, ensure not to stress them.
In case of children, you should take care to not hurt their feelings. They will find it difficult to change to a new location. After all, they have to leave their friends, familiar places and shift to a new location.
You need to keep the bed sheets, towels and other essential items at a hand's reach.
Ensure to have the customer care number of our relocation supervisor on your mobile.
Please do not forget to make your fridges/freezers dry. Ensure they are ready for packing the next day.
You need to turn off all the taps that are connected to your water purifier, washing machine. Please let the appliances get dry before packing.
If you have got electrical goods, ensure to check the manufacturer's needs for packing them.
As per our house shifting services Delhi to Mumbai team, it is mandatory that the TV/stereo and other electronic appliances are disconnected. You should ensure their wires remained taped together. Double-check to confirm if any CDs/DVDs remain on them.
Ensure you remain on the moving day for supervision. Or else assign the job to one of your family members.
Conclusion
Cloud Packers and Movers management gives training to its workers so that they offer professional packing, loading, unloading and storage facilities. They are trained to walk more distance so that every aspect of the relocation process works towards success of the project. Our packers and movers Mumbai supervisor select only the relevant trucks as per the distance. Every item will be loaded to the truck in a perfect manner. Cloud packers is always known for offering services of world-class quality. So, give us a chance to serve you and we will never disappoint in the relocation process.
Packers and Movers Delhi to Mumbai Charges
Cloud Packers deliver excellent service with a very nominal charge compared to others.
By analyzing and understanding your requirement, we consult you on the best to save your money. We suggest the goods which can be sold to save of moving.
Recommend you small staff that can move with your handbag like documents, important gadget, jewelry, a small electric gadget to reduce your moving budget and safety of your valuable goods.
Donate your old and not using goods like cloth and book to society needy and save money.
We can also help to set your luggage with our professionals for full-proof packing.
| Goods Size | Packing Charges | Transportation Cost | Total Cost (Approx) |
| --- | --- | --- | --- |
| 1 BHK | 7,550 - 11,000 | 14,200 -17,400 | 21,750 - 28,400 |
| 2 BHK | 12,250 - 15,540 | 17,000 - 20,300 | 29,250 - 35,840 |
| 3/4 BHK | 15,150 - 17,790 | 21,900 - 28,300 | 37,050 - 45,990 |
| Office or Large Shifting | 23,600 - 26,800 | 27,750 - 34,900 | 51,350 - 61,700 |
(Note - This pricing is a rough estimate, the actual price may differ from the given price depending on item type and the number of the item you want to transport.)
Packers and Movers Delhi to Mumbai
Get promising shifting service with superior packing material for fast and safe delivery from India No#1 packers and movers.
Get Free Quote
Write a review now