Packers and Movers Chennai to Hyderabad
Get promising shifting service with superior packing material for fast and safe delivery from India No#1 packers and movers.
Get Free Quote
Write a review now
Cloud Movers and Packers Chennai to Hyderabad
FREE Visit
Get free visit at your doorstep to verify your goods & consultation.
Affordable Price
Get highly affordable Price and Discount on every shifting service.
Fast Delivery
Get a fast & safe delivery of your household goods at your doorstep.
24x7 Support
Get 24/7 Customer support over email, phone and Whatsapp chat.
🛡

Safe & Compliance

Cloudpackers relocate your households with complete safety and assurance. Get extra assurance with insurance, high-quality packing materials and skilled human resources.
💰

Cost Saving

The right type of packing material respective to goods from a skilled and trained workforce, transport chain and modern technology will save money. Right, consult for moving to make it easier.
💡

End to End Service Solution

Starting from scratch to settle at your destination we offer complete services where you can relocate your households, furniture, electronics, and vehicles to your living plants and pets.
🌐

Fast & Worldwide Network

Over a period of time, we enhance ourselves and our connections to the global market. And now we have a strong and fast worldwide packers and movers network.
💸

Insurance Coverage

By looking at the obstacles and risks of transportation to your belongings, we offer insurance coverage to your households to prevent you from any loss.
📦

Storage & Warehouse Facility

Get up to 30 days of absolutely free storage and warehouse facility from us. You can store your belonging with us for upto 30 days free while taking our packing and moving service.
🏗

Advanced Tool & Modern Shifting Method

For complete safety and extra protection, we use advanced tools and modern technology for packing and shifting households to your desired destination.
👷

Skilled Staff & Premium Packing Material

Over a half-decade Cloudpackers solving packing and moving issues with their well-trained staff and world-class packing materials. We use multilayer packing for the safest relocation.
We don't just pack. We provide your belongings to the mark of security. Your belongings are safe in the strong containers in which they pack the belongings. Our loading and unloading professional work with ethics. They employ the latest equipment and machines to load and unload your belongings. Whether you are staying in small buildings or high rise buildings are staff is well equipped to provide you the best relocation experience. You can give us a call at our Chennai office. Our representative will work with you to provide a day by day blueprint of how the company will move your belongings from Chennai to Hyderabad. All your suggestions are taken care of. You are given an estimate based on the quantum of goods and many other factors which our representative will explain in detail.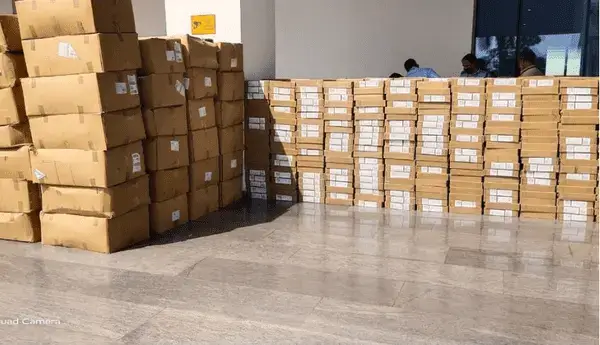 We offer the best services for your relocation needs. From packing, loading, unloading, insurance, warehousing, pet care and relocation, plants relocation the range of services we offer are immense. We also help you fill up the forms and get your vehicle number registered in the new authority of the city you are moving in. You can visit our local office or visit Cloudpackers.com to get an idea of the services on offer and charges we offer our services on. After comparing the rates you will find that we are best and cheapest in the business.
Packers and movers Chennai to Hyderabad – Your dream city is waiting for you
You are about to move to Hyderabad. For some, it is a dream city with it being an IT hub. We help you relocate smoothly to your dream city. You can ask any of your acquaintances regarding your services. It is our guarantee you will get positive and best feedbacks. The reason behind our progress is that every client is important to us. We service and service to the best of our ability. We use the latest packing techniques, best machines for loading and unloading. Our Lorries are compartmentalized to hold household goods, plants, vehicles, etc. Our professionals are well trained. They are polite and have years of experience in the relocation industry. With cloud packers.com you are in safe hands. Cloud Movers and Packers Chennai to Hyderabad can help nurture your plants for safe relocation and dream relocation.
We deliver to your satisfaction
We have got a great network of warehouses. Our warehouses are located in almost all major cities of India and in many cases on the outskirts of many towns. They are used when your goods are in transit and there are strong weather disturbances. When the weather clears your belongings are reloaded in trucks and taken further to your destination.
Services offered by the best Packers and movers Chennai to Hyderabad, CloudPackers
You will receive an extremely effective, adaptable, and flexible fine art moving service.
Experienced and dedicated professionals who are associated with us for years will move these valuable items. So, there will not be any scope for a mistake.
We will ensure that you receive a complete effective service that starts immediately after calling us and ends when the piece is installed to your desired location.
Our experts carefully control the service. We provide you with climate-controlled vehicles and world-class packaging materials.
Now let's get to know the benefits of these services.
Enjoy the benefits at an affordable rate
Now you can enjoy stress-free moving of your prized possessions.
Receive high-end relocation services at an unbelievable price range only with CloudPackers.
The services provided by us are adaptable packing services that are suitable for almost all types of goods.
So while moving to a new place like Hyderabad from Chennai, your precious goods will be safe with us completely.
Why do thousands of people rely on CloudPackers?
Relocating fine arts is not a piece of cake. It's completely different from home or office relocation services. The professionals of Cloud Packers always show the utmost care for all your delicate items. But this is not enough for art relocation. Prior experience in handling art is a must. Will a sorry be enough for you after the damage of your precious art? If you are already aware of your item's nature, you can always take special caution. For example, professionals wear gloves while handling these delicate items. Along with that, we use the right tools to avoid harm to these pieces. How can we forget about packaging materials, which are extremely crucial to protect these delicate art pieces from fire, mildew, and water?
Therefore always hire trained professionals for a stress-free and damage-free relocation and also if you want to avoid losses of your prized possessions.
Packers and Movers Chennai to Hyderabad Charges
Get a complete hassle-free, risk-free and affordable packing and moving service through Cloud packers and movers Chennai to Pune. We offer world's best packing materials to pack your households while shifting and less paperwork for relocation for a hassle-free shifting. And we trained the workforce to lessen your worries about the workforce.
And we avail insurance to each household shifting and use our best transport chains for transportation by taking all the required precautions. We also help you in unloading your households at your doorstep to avoid any damage to your goods for complete risk-free movement.
Due to our massive transport chain and customized service you will get an affordable quotation compared to other moving services. You can see below about the cost of packers and movers Chennai to Hyderabad.
| Goods Size | Packing Charges | Transportation Cost | Total Cost (Approx) |
| --- | --- | --- | --- |
| 1 BHK | 7,550 - 11,000 | 14,200 -17,400 | 21,750 - 28,400 |
| 2 BHK | 12,250 - 15,540 | 17,000 - 20,300 | 29,250 - 35,840 |
| 3/4 BHK | 15,150 - 17,790 | 21,900 - 28,300 | 37,050 - 45,990 |
| Office or Large Shifting | 23,600 - 26,800 | 27,750 - 34,900 | 51,350 - 61,700 |
(Note - This pricing is a rough estimate, the actual price may differ from the given price depending on item type and the number of the item you want to transport.)